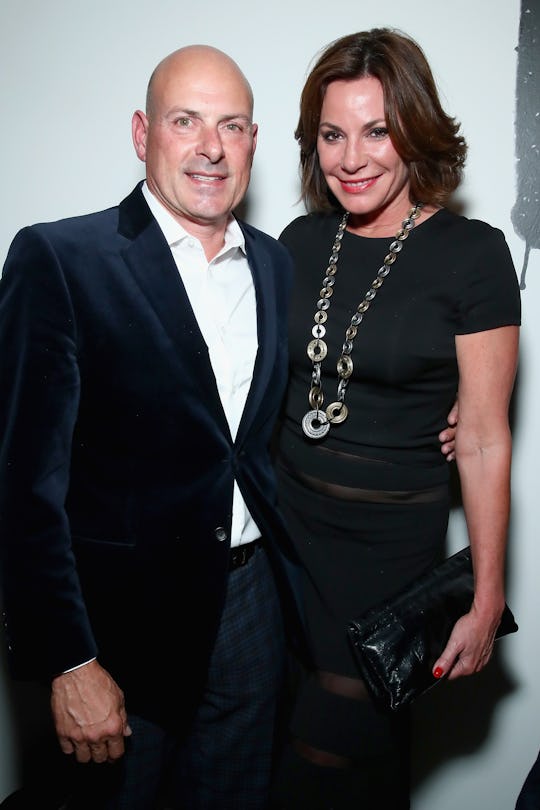 Astrid Stawiarz/Getty Images Entertainment/Getty Images
Photos Of Luann & Tom Prove They Are Enjoying Married Life
Luann de Lesseps and Tom D'Agostino, Jr. were married on New Year's (which just so happened to be Tom's 50th birthday, too), making their marriage about four months old. Though most of what was shown about their relationship on The Real Housewives of New York was filled with drama — from Sonja Morgan's alleged past hook-up with Tom to the cheating rumors relayed by Bethenny in Palm Beach — in their everyday life, things seem to be going well for the new couple. These photos of Luann de Lesseps and Tom D'Agostino make it seem like they're enjoying married life so far.
Luann and Tom's wedding was a three-day spectacular in Palm Beach, which is just one of a few locations where the couple divides their time. When they're not in Florida or New York City, they might be found in Luann's recently renovated Sag Harbor home. They also spent their honeymoon in the Bahamas, which was dutifully documented by Luann on Instagram alongside every other major moment of their relationship. All of the pictures of Luann and Tom on her social media present the image of a happy and excited couple starting off on a new life together. They may have had a rocky start, but things seem to be going well now.
At The RHONY Premiere
Luann has posted plenty of pictures of her and Tom dressed up for big events like the RHONY premiere party and the Tribeca Ball, offering each other some public support.
Getting Out Of Dodge
She also captured their jet-setting lifestyle as they took off to Palm Beach to avoid the New York winter storms in what appeared to be a private plane.
Tying The Knot
Of course all the biggest moments between them are present on Luann's Instagram too, from their wedding to their honeymoon.
The Bahamas
From the looks of it, Luann and Tom are always traveling somewhere sunny. It's hard not to have fun when you're trading in snow for a day at the beach.
Miami With Marysol Patton
Luann has documented some quieter moments between the two of them too, like hanging out with friends.
Miami Nights
And having plenty of romantic nights out, too.
Palm Beach Boat Show
When not with friends, Luann and Tom can be found hanging out with nightmare lobsters.
Tennis, Anyone?
From the looks of it, there's nothing they don't do together.
Scandal may have gotten in the way during the early days of Luann's relationship with Tom, but since then everything appears to be back on track.