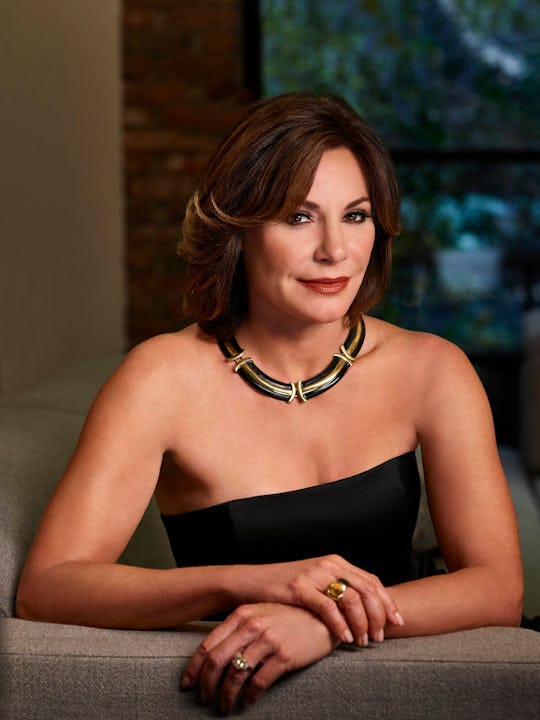 Patrick Ecclesine/Bravo
Photos Of Luann & Tom's Penthouse Will Make You Jealous
When they're not on a yacht in Palm Beach or holed up in her Sag Harbor house, Luann and her new husband Tom D'Agostino call a New York City penthouse apartment home. The Real Housewives of New York Season 9 hasn't taken a full tour through Luann and Tom's residence in the city yet, but that doesn't mean Luann hasn't shared any images of the apartment. And these photos of Luann and Tom's penthouse apartment make it clear why she would — the apartment is predictably grand.
Luann took fans on a tour of the apartment in a video that can be found below. She led the camera through the entire penthouse while pointing out all the interesting details like her daughter's art and the vintage fixtures, as well as the penthouse's massive wraparound terrace with its beautiful view of the city. Her and Tom's adorable dog Aston even makes an appearance in the marble and glass kitchen, rolling over for a treat.
The design of the apartment is cool and modern, but there is also plenty of Luann's personality to be found. While the style might not be to everyone's taste, Luann is clearly delighted with her home in the city, singing its praises as she moves from room to room.
The apartment was originally Tom's, but it became their shared space after their engagement. Some glimpses of it may have been caught during episodes of RHONY, but the video is the first dedicated tour of Luann's new home. Some of Luann's favorite features include the wood paneling in the entryway and the Jean Perzel light fixture that she explained dated from the 1930s and came from Paris. "It just looks so cool," Luann said. "And rich."
The apartment is made for entertaining, which Luann says she and Tom do quite often. There's plenty of space both inside and out thanks to that massive terrace, and Luann's huge glass banquet table certainly helps when it comes to making room for guests. If Season 9 doesn't end with a dramatic party-gone-wrong at Luann's penthouse, then I will be supremely disappointed.
Social media has given Luann a platform to show off her penthouse, too. Whether it's in a sponsored shot or a video captured in the middle of a party, Luann and Tom's penthouse makes a nice backdrop for whatever is going on in Luann's life. She definitely seems at home in her new digs.