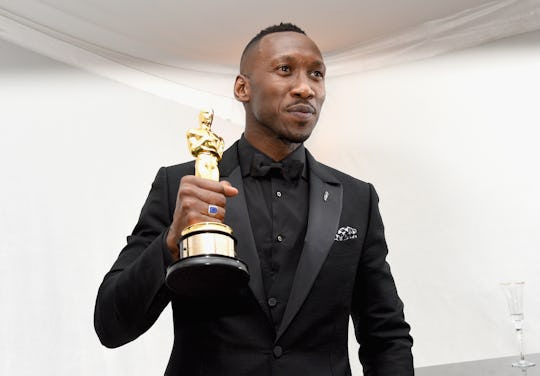 Kevork Djansezian/Getty Images Entertainment/Getty Images
Photos Of Mahershala Ali & His Daughter
2017 has been a big year for actor Mahershala Ali: thanks to his powerful performance in Moonlight, awards season saw him bring home a handful of honors, including a Screen Actors Guild award, a Golden Globe, an NAACP Image Award, and the all-important best supporting actor Oscar. This week alone, he's made headlines both for his involvement in Jay Z's highly-anticipated upcoming visual album, 4:44, as well as for being GQ's July cover star. But his biggest accomplishment may have had nothing at all to do with acting: the 43-year-old welcomed his first child in February, and photos of Mahershala Ali and his daughter show he's definitely a devoted dad.
The Academy Awards were no doubt an important night for Ali, but the timing may not have exactly been the greatest. According to E! News, Ali explained on the red carpet that his wife, Amatus Sami-Karim, had actually given birth to their daughter, Bari, only days earlier. The actor told Ryan Seacrest that he was "a special kind of tired right now," and during his acceptance speech later that night, he thanked Sami-Karim for being "such a soldier through this process," and remaining supportive of him despite the fact that Ali's demanding awards season schedule happened to coincide with her third trimester, according to The Hollywood Reporter.
That couldn't have been particularly easy on either of them, but judging by the actor's Instagram account, life as a new dad has been a dream. On Sunday, Ali celebrated Father's Day by posting a photo of himself holding his snoozing baby girl, along with the caption, "Abu x Bari @unicef #EarlyMomentsMatter #FathersDay."
Editor's Note: The Instagram post has since been deleted.
It wasn't the first time that the proud dad had shared photos of his infant on social media though. Last month, he posted a super sweet snap showing him kissing his daughter's tiny feet while they played, and in March, he also posted a black-and-white photo of him holding his then 1-month-old baby.
Ali also took the opportunity to officially announce his daughter's birth on Instagram back in February, when he posted a beautiful photo of his wife and daughter taken while they were in the hospital. But in a red carpet interview with Access Hollywood ahead of the Oscars, Ali shared that her birth wasn't without its share of surprises. That's because Bari was actually born inside her amniotic sac — a rare occurrence where the membranes don't actually rupture during the birthing process. Ali said,
The water didn't break until the baby was literally almost out. So when she was born, she came out in a clear, like, bag. And I'm going, 'Wow, they come brand new!' ... It was such an extraordinary experience.
The new dad also gushed about his new daughter, and said, "she's so beautiful. I'm so in love with her. I'm so tired ... It's a special time."
It's clear that Ali takes his role as a father pretty seriously, but, as a public figure, it also seems important to him that he use his platform to speak out against discrimination. In his July GQ cover story, Ali spoke about his experience being both a black man and a Muslim — he's actually the first Muslim actor to ever win an Academy Award — and revealed that after the Sept. 11, 2001 terror attacks, his name was added to a terrorist watch list (even though his given name, Mahershalalhashbaz, is actually Hebrew). Ali, who converted to Islam in 1999, said he was told that his name "matches the name of a terrorist," even though he was pretty sure that wasn't the case:
I was like, 'What terrorist is running around with a Hebrew first name and an Arabic last name? Who's that guy?'
These days though, Ali appears pretty much universally adored — and the love seems particularly strong on social media. Following the release of his GQ cover story, fans promptly lost it, and offered up countless swooning tweets in response:
Could Ali be the most loved new dad in all of America right now? It seems entirely possible. But judging by how much he clearly appears to adore his little girl, it also seems to reasonable to assume he would be more than happy to accept that title.