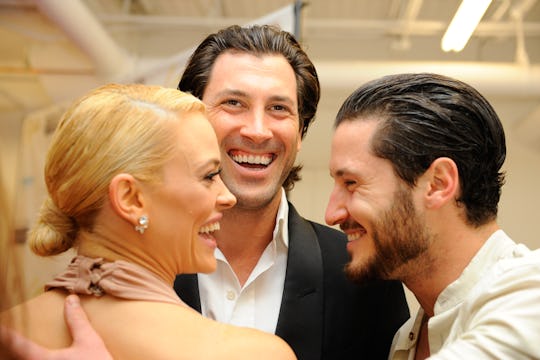 Sergi Alexander/Getty
Photos Of Maks And Peta From 'Dancing With The Stars' Are Almost Too Cute To Handle
I would like to know exactly what kind of love potion they brew behind the scenes of Dancing With the Stars, because the show's pro dancers seem to be constantly falling in love and getting married. Sasha Farber and Emma Slater, who got engaged on the live show a few weeks ago were just the latest in a slew of dancing couples. On their social media accounts, photos of Maks and Peta from Dancing With the Stars show the couple, who are engaged and expecting, being so adorable I can almost forgive Maks for quitting the show in order to better take care of his newborn baby (#babychmerkovskiy).
As it turns out, the couple did not actually meet on Dancing With the Stars. They were both part of the Broadway production of Burn the Floor. According to an interview with People, when they first met on that show in 2009, Peta wasn't the biggest Maks fan, and says that she found him "arrogant," though they did eventually become friends. The friendship blossomed and the couple say there was always an attraction between them, even when Maks was engaged to (another Dancing With the Stars pro) Karina Smirnoff. Now the couple is expecting their first child together, and they clearly could not be any more in love.
Peta captioned this photo by saying "I am so proud of you. Your opening night blew me away baby and all throughout was so overwhelmingly joyous. The stage was on fire, the cast comradery was infectious....I love you and everything that you are." Excuse me while I wipe away tears. Love is so beautiful.
It's great to see a couple look so connected both on stage and off. I am also convinced that there is some sort of secret dancer love code that only dancers know and it connects them with other dancers. I don't know, I'm still working on this theory.
The couple is pretty open on their social media accounts, sharing intimate moments like this all the time, which show the couple seemingly more and more in love as they get closer and closer to being first-time parents.
Maks and Peta got engaged in 2015 and are planning for a summer 2017 wedding after their new baby is born.