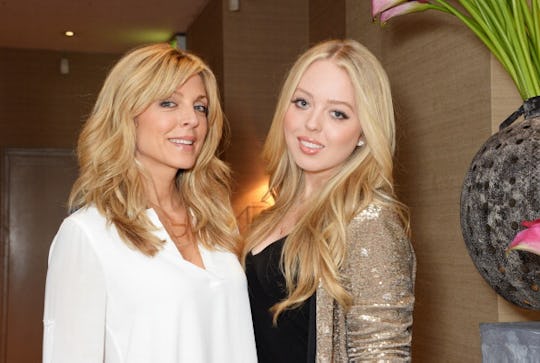 David M. Benett/Getty
Photos Of Marla Maples & Tiffany Trump Prove The Pair Has An Amazing Bond
Marla Maples, mother of Tiffany Trump, dedicated her dance on Monday night's Dancing With the Stars, to her daughter on the show's Most Memorable Year-themed episode. Her most memorable year was 1993, the year that Tiffany was born. Today, the youngest Trump child is a student at University of Pennsylvania, just like her father and older half siblings. Also, like her other siblings, she looks just like her dad, and her resemblance to sister Ivanka is almost eerie. Don't trust me? Just checkout photos of Tiffany Trump and Marla Maples off the Dancing with the Stars stage.
Unlike her other siblings, she grew up on the West Coast with her mother. While the other siblings have always been somewhat public figures, Tiffany has lived a much more secluded lifestyle. But due to her father's presidential run, and her mother's stint on Dancing With the Stars, Tiffany has definitely come out of the woodwork somewhat.
Tiffany's relationship with her mother is certainly as tight a bond as could be. "My mom and I have always been very close since she did raise me as a single mom," she shared. Both women are active Instagram users, constantly sharing adorable photos of the other.
In support of her mom's Most Memorable Year, Tiffany posted this adorable collage of pics of the two of them together. One thing is clear, the two of them have always had great style!
Tiffany Trump has not been as active on the campaign trail as her older siblings have, particularly Ivanka, who has become a de-facto spokesperson for the campaign. She has, however, been supportive of her father.
Like her sister, Tiffany has fashion ambitions. Ivanka even got her an internship at Vogue.
Maples and Tiffany often appear publicly at events together, like here at the Young Hollywood Awards.
With a score of 21 out of 30 for her Most Memorable Year foxtrot, Maples has proven herself to be a force to be reckoned with on Dancing With the Stars. And her biggest fan is clearly the daughter to whom this dance was dedicated.