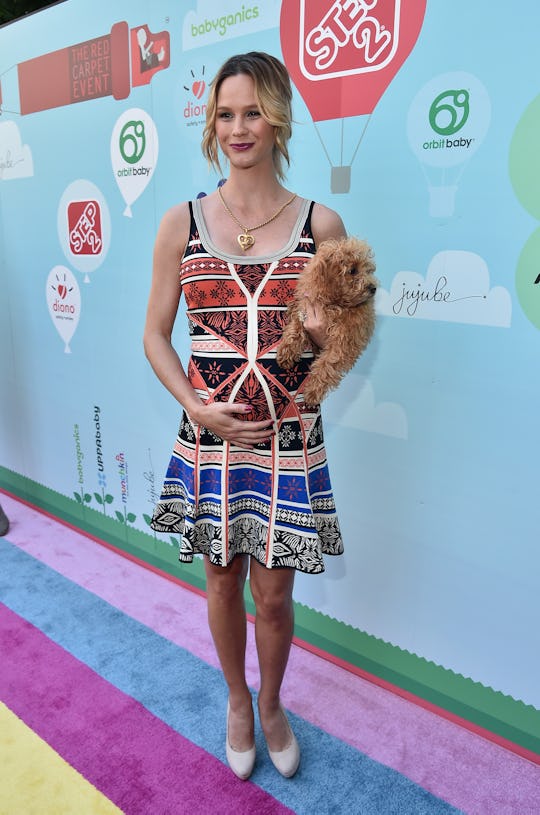 Alberto E. Rodriguez/Getty Images Entertainment/Getty Images
Photos Of Meghan King Edmonds' Baby Are Seriously Adorable
Meghan King Edmonds' pregnancy was documented every step of the way during Season 11 of The Real Housewives of Orange County. Viewers saw her express her desire for a baby in Season 10 and then go on to realize that dream while also dealing with painful fertility treatments and loneliness when her husband Jim was away. Despite setbacks and struggles, Meghan was able to conceive. The ups and downs of her journey to do so was refreshingly relatable for a show that didn't even edge close to realistic half the time. Now she's given birth and these photos of Meghan King Edmonds' baby are seriously adorable.
Meghan's new baby girl is named Aspen and was born on Thanksgiving Day, and she joins siblings Lauren, Hayley, Landon, and Sutton from Jim's previous marriages. The Edmonds are clearly thrilled to finally meet the newest addition to the family, and Meghan has been sharing the joy on Instagram since her daughter's arrival.
"We have a healthy, strong happy baby who loves breastfeeding and already holding her head up!" Meghan captions the first photo of her baby on Instagram. "I feel like I worked out for a week straight and my throat hurts from yelling but I survived unscathed without so much as a tiny tear and now I feel like the strongest warrior on the planet (and Jimmy thinks so too)."
More pictures quickly followed. Meghan shared Aspen's first meeting with her dog Girly Girl in one especially cute photo, and don't worry – puppy and baby are besties already.
According to a comment on one picture, Meghan thinks baby Aspen already looks like her dad, calling her a "mini Jimmy," but according to co-star Heather Dubrow Aspen is "absolutely stunning, just like her Mama." The message from Heather was one of several well wishes from Meghan's RHOC co-stars, many of whom offered congratulations on social media and welcomed Meghan's new daughter to the world.
Meghan also took to Instagram to express how important her husband's support during Aspen's birth was to her. "Jimmy was a constant source of support through every contraction, each blood-curdling scream and each time I told him I thought I was dying and couldn't do it anymore," she writes. "He ran baths, helped me walk, helped me breathe, held my hands, essentially endured the burden of my pain for all 22 hours. I am so proud and impressed of the team we made to welcome Aspen, our bond is more unshakable than I ever imagined."
It looks like the Edmonds family couldn't be happier.