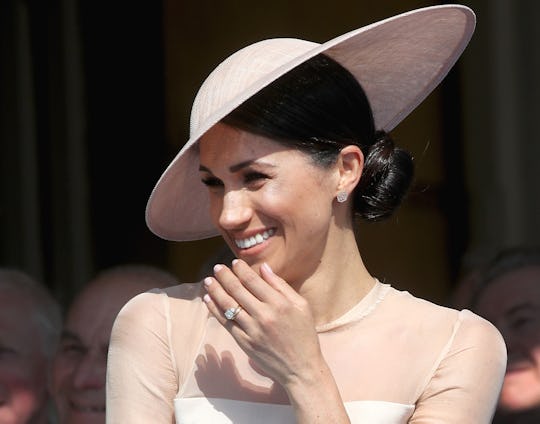 Chris Jackson/Getty Images Entertainment/Getty Images
These Photos Of Meghan Markle's Dog Guy Prove The Rescue Pup Is Living His Best Life, Too
Thanks to Megan Markle's work as an actress long before her relationship with Prince Harry, there's plenty that the public already knew about the Duchess of Sussex before the royal wedding on May 19. There's one aspect of Markle's life that hasn't been given enough attention worldwide, although that seems to be changing. In fact, the world is learning a bit more about Meghan Markle's rescue dog Guy and photos of the sweet pup prove that he is truly living his best life, just like his owner.
To some, it might come as a surprise to hear that Markle has a dog, let alone that he's in England with her, too. Moving from America to England is a big change for a human, let alone a pet. But this move is only one small part in Guy's incredible journey. Guy, a beagle, was found in the woods of Kentucky and was due to be put down by a shelter after no one wanted to take him home, according to The Guardian.
Luckily, according to People, volunteers were able to transport Guy to A Dog's Dream Rescue, an Ontario-based program which saves beagles about to be euthanized in the United States by bringing them to Canada to be adopted. Not too long after Guy's arrival in 2015, People reported that Markle — who was living in Toronto while filming Suits — reached out to the rescue. According to People, she filled out an adoption application, went to an event, and as they say, the rest is history.
Dolores Doherty, the founder and owner of A Dog's Dream Rescue, told People that when Markle came to adopt, she was struck by Markle's politeness, sense of humor, and "her beauty really stood out". She wasn't immediately aware of who Meghan Markle was, or of her later relationship with Prince Harry. But when she found out, Doherty told People, "It's just wonderful the exposure she created. She could've bought a dog, but she chose to adopt."
Guy's newfound fame is helping raise money for the very same shelter he came from. According to the Courier Journal, Lexington resident Cindy Rullman presented a T-shirt idea to the Montgomery County Animal Shelter in Kentucky as a way to bring awareness to shelter pets and raise money.
"When I saw Meghan Markle's dog had originated in Kentucky, made his way north and ended up in this posh situation, I really wanted to help more of those animals stand a better chance of getting adopted," Rullman reportedly told the Courier Journal.
Now, the $27 shirts can be found online in a wide range of colors. The shirts say "duke duchess dog" with a crown over the word "dog".
Markle has spoken about her love of Guy and her other dog Bogart (who was too old to make the trip overseas and currently resides with close friends, according to The Guardian) before. Once, she told Best Health that Ellen DeGeneres convinced her to adopt Bogart: "Now, I don't know her, but Ellen goes 'Is that your dog?' And I said, 'No,' and she's like, 'You have to take that dog.' And I said, 'Well, I'm deciding.' And she's like, 'Rescue the dog!'"
Markle went on to say, according to Best Health:
It's sort of like if Oprah tells you to do something. I'm sitting there holding him and she's like "Have you thought of a name for him yet?" And I said, "Well, I think I'd name him Bogart," and she's like "You're taking the dog home."
A love for animals is something that can easily unite people. Dog lovers are perhaps one of the most prominent examples of this and it seems that the royal family is no exception. Although Markle hasn't been seen riding solo with Queen Elizabeth yet, it looks like Guy was spotted in Windsor a day before the royal wedding, peeking out the backseat window while hitching a ride with the queen.
The queen has been a famous dog lover for decades and images of her surrounded by her corgis have become a symbol of the British monarchy. The history of corgis in the House of Windsor preceded the queen, as outlined by The New York Times, but it's the queen's dog, Susan, that marked the beginning of a line.
Susan was given to the queen as an 18th birthday present, according to The New York Times. The queen became so attached that she snuck Susan off with her and Prince Philip on their honeymoon in 1947, according to Vanity Fair. Since then, she has owned 30 corgis, according to The New York Times, and every single one has been a descendant from Susan's lineage.
In 2015, The Telegraph reported that the queen stopped breeding her own corgis. Monty Roberts, a horse whisperer who regularly advises the queen and is a frequent guest at the royal residencies, reportedly said, according to The Telegraph, "She didn't want to leave any young dogs behind. She wanted to put an end to it."
The queen's corgis had become so well known that they even have their own Wikipedia page. With the death of Willow in April 2018, it marked not only the end of Susan's lineage, but the end of a corgi's continuous presence in the queen's household. Knowing that, maybe it's perfect timing that Markle joined the royal family with a dog of her own who clearly isn't too shy to hang out with the queen.
It's painful for any dog owner to handle the loss of a pet, especially when the legacy runs so deep. But maybe, in the near future, the public will see more rescue pups like Guy running around.