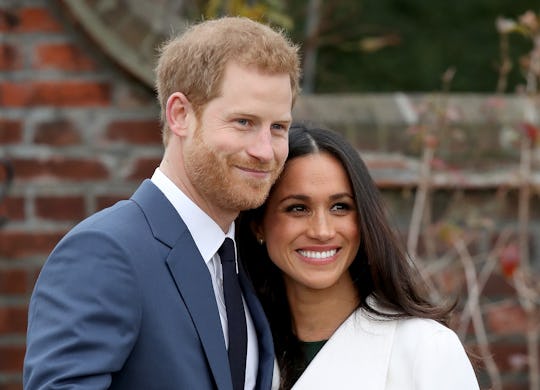 Chris Jackson/Getty Images Entertainment/Getty Images
Photos Of Meghan Markle's Ring Are Here, & It Is A Breathtaking Tribute To His Mother
For months, royal watchers were wondering when Meghan Markle and Prince Harry would officially announce their engagement, but now that they've shared the happy news with the world, the next pressing question is, well, what does the ring look like? Prince Harry and Meghan Markle stepped out for their first official photo call as an engaged couple Monday, and photos of Meghan Markle's ring confirm rumors that the prince chose a design with some major sentimental value. The happy couple posed for photographers in the Kensington Palace gardens, according to The Guardian, and Markle, dressed in a long white coat, happily showed off the large three-stone engagement ring for the cameras.
While Prince William may have been the one to offer up his mother's diamond and sapphire engagement ring to his future bride, ITV's royal editor Chris Ship confirmed that Prince Harry also made sure to incorporate Princess Diana's memory into Markle's engagement ring: in a tweet, Ship said that two of the three stones came from his mother's personal collection, while the third comes from Botswana (a country close to the prince's heart, and where the couple vacationed together earlier this year.) It was long suspected that the prince would use his mother's diamonds in Markle's engagement ring — earlier this month, Us Weekly reported that the ring would feature diamonds taken from one of his mother's brooches.
The couple looked both nervous and overjoyed as they stood together for their first photos as an engaged couple, and though their appearance was brief, they did share that they were excited to be announcing their decision to marry. According to The Mirror, Prince Harry told photographers that he was "thrilled" to be engaged, while Markle said she was "very happy." The royal ultimately declined to discuss how he proposed, responding "that will come later," but did at least confirm that it was romantic. And when asked when he knew that Markle was the one, Prince Harry had the perfect answer: he told photographers he knew "the very first time" they met.
According to People, Prince Harry designed the special ring himself, with a little help from Cleave and Company, who are Queen Elizabeth's jewelers. And just as his brother before him, it's clear that honoring his mother's memory was important to him: in addition to using Princess Diana's diamonds in the ring itself, he and Markle also chose to pose for photos in the palace's White Garden, which was renamed earlier this year as a memorial garden to honor the late princess.
While details of the upcoming wedding aren't yet known, in the official statement announcing the engagement, Clarence House confirmed that Prince Harry and Meghan Markle would be married in spring 2018, and that they will be living in Nottingham Cottage, Prince Harry's two-bedroom residence at Kensington Palace.
Like his brother before him, Prince Harry is set to sit down with his bride-to-be later today for a televised interview about their engagement. In November 2010, Prince William and Kate Middleton had their first-ever joint interview, during which they discussed the early days of their relationship as students at the University of St. Andrew's, and Prince William's proposal, according to People. The royal heir also spoke at the time about the decision to give Middleton his mother's engagement ring — an item that actually belonged to Prince Harry following her death, and which he would have presumably given to Markle if he'd been the first of the two brothers to get engaged. At the time, the elder royal explained,
It's my mother's engagement ring. So I thought it was quite nice because obviously she's not going to be around to share any of the fun and excitement of it all — this was my way of keeping her sort of close to it all.
Given Prince Harry's love for his late mother, it's no surprise that he's made an effort to tie her memory into his engagement to Markle, and it seems totally reasonable to expect that she will also come up as a topic of discussion when the couple sits down to discuss their relationship on camera. But given that they've also kept much of their private life together under wraps — in an interview with Vanity Fair in October, Markle told the magazine that they were simply "two people who are really happy and in love" — it will also be a pretty big deal to see them open up and speak publicly (together!) about their future plans.
As a long-time royal bachelor, Prince Harry has definitely had to field his fair share of speculation over the future of his romantic relationships, and once news surfaced that he was dating Markle, it seemed that everyone was waiting to hear that the two had decided to tie the knot. Now that they've actually announced it, it seems inevitable that the public's interest in the couple will only increase as their wedding approaches. But judging by the pair's totally-in-love excitement at their engagement photo call, it seems like they are absolutely ready to handle it together.
Check out Romper's new video series, Romper's Doula Diaries:
Watch full episodes of Romper's Doula Diaries on Facebook Watch.