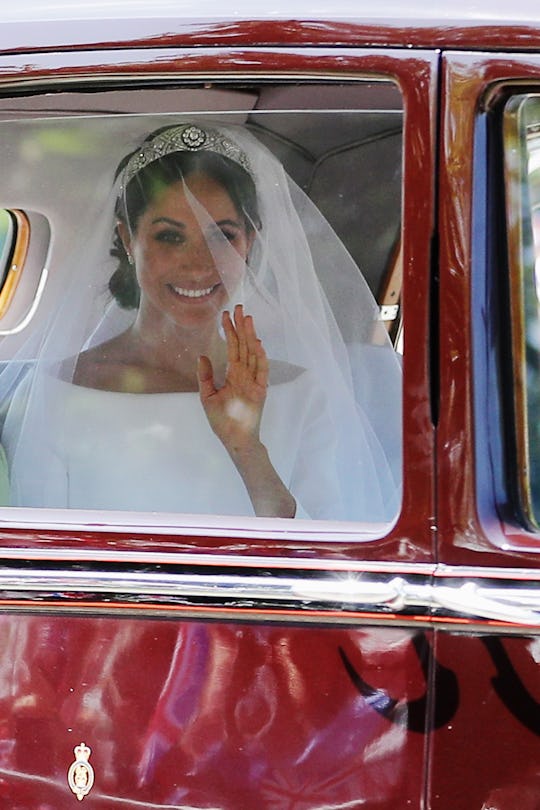 Richard Heathcote/Getty Images Entertainment/Getty Images
Meghan Markle's Tiara At The Royal Wedding Was Sparkly Perfection
As much as Kensington Palace released plenty of details about Prince Harry's wedding to Meghan Markle in advance, there were a number of important questions left unanswered until the very last minute. What would Markle's dress look like? Would Harry wear a wedding band? Would Markle — the newly-minted Duchess of Sussex — choose to wear a tiara? It turned out that Markle did, in fact, don a tiara, and photos of Meghan Markle's tiara at the royal wedding show that she wore it like a true princess.
There was much speculation ahead of the big day about Markle's tiara, especially since royal watchers longed to know if she might actually wear a piece that had once belonged to Prince Harry's mother, Diana, Princess of Wales.
Some, on the other hand, thought she might go against the grain and skip one all together — according to Metro, royal brides don't actually have to wear tiaras, though it is certainly customary for them to do so. In 2011, for example, Catherine, the Duchess of Cambridge wore the Cartier Halo tiara at her wedding to William, the Duke of Cambridge, which had been loaned to her by the Queen of the United Kingdom.
Though no one knew exactly what Markle would opt to wear if she did choose a tiara, many seemed to be hoping that she'd be loaned the Spencer tiara, which Princess Diana wore to her own wedding in 1981. Early photos of Markle in the car en route to St. George's Chapel appeared to confirm that that wasn't actually the case though: she actually looked to be wearing the Queen Mary Diamond Bandeau tiara instead.
Markle's wedding look was elegant and gorgeously simple: she wore a long-sleeved white silk Givenchy dress paired with a cathedral-length lace veil, and her hair tied up. But paired with her diamond tiara? The former Suits actress captured the duchess look perfectly.
The choice to wear a tiara was a thoughtful nod to the royal family, particularly as the piece was also on loan to her by the Queen. According to People, the tiara was purchased by Queen Mary, wife of King George V, in 1925, and was then inherited by her daughter-in-law, Princess Marina, Duchess of Kent. Yet, it's also a unique choice: unlike the Spencer tiara, the piece hadn't been worn by a royal bride before.
In fact, according to BuzzFeed, the tiara itself hadn't been worn in public since Queen Mary's death in 1953:
Although it makes sense that some royal fans may have been hoping that Markle would wear the Spencer tiara as a way to honor Princess Diana on her wedding day, it seems entirely fitting that she opted for one that would allow her to make her own statement. After all, if there's one thing that Markle and Prince Harry proved on their wedding day, it's that while they are happy to respect royal tradition, they also fully intend to do things their own way.