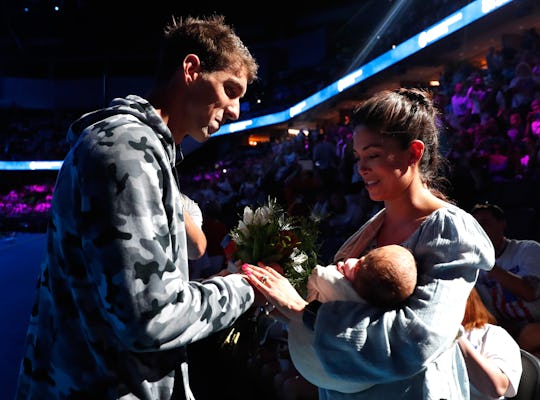 Al Bello/Getty Images Sport/Getty Images
Photos Of Michael Phelps' Baby Show That The Family Is Ready For Rio
He may be an Olympian, but it seems as though swimmer Michael Phelps takes the most pride in being a dad. Phelps' baby with fiancée Nicole Johnson is only a few months old, but he's already making waves with an Instagram account of his own. Boomer Phelps' burgeoning online fandom may not yet threaten to usurp his dad's social media status (Phelps has 960,000 Instagram followers, Boomer has 39,800), but he's definitely in the spotlight as the Olympics approach. Photos of Michael Phelps' baby show that the family is ready for Rio.
Boomer Robert Phelps entered the world on May 5 at 7:21 p.m., according to Us Weekly. Phelps posted the birth announcement to Instagram on May 7; the caption, in part, read: "Healthy and happy!!! Best feeling I have ever felt in my life!!!" The post has 107,000 likes on Phelps' personal account, but Boomer is getting a ton of attention on his own Instagram. Though he's only posted 14 photos (with help from his parents), Boomer's posts consistently get thousands of likes. Though many images feature family members, Boomer is also known to flaunt his flawlessly fashionable attire; given his dad's career, Boomer was basically born to wear stars and stripes.
As Phelps prepared for the Olympic trials in June, he got to take time out of his training schedule to meet his son. Back in March, Phelps told Us Weekly that the idea of becoming a dad before competing in the Olympics delighted him:
One of the coolest things about being a father going into Rio is that our firstborn has the chance to see my last race ever. I think that's something that'll be really special that we'll be able to share stories with him, you know, from the time he gets old enough to realize, and I'm excited to have a lot of photos and just to share the moments and memories with him growing up as a kid.
That's a recipe for a ridiculously cool Take Your Kids to Work Day!
From the moment he was conceived, baby Boomer was destined to represent the United States. Johnson captioned this photo, "Thank you Auntie @arschmitty for the amazingly cuddly star blanky you gifted #boomerphelps. He's been laying in it since coming home."
Being the son of an athlete isn't all fun. This snapshot on Boomer's account is captioned, "Mom told me I have to fly to go see daddy at trials!!"
If it helps, dad isn't such a big fan of traveling, either. "Hard being away from you Boomer!!," he wrote. "Trying to do everything to make you proud of daddy!!! #dreamingbig."
Luckily, Boomer didn't stay upset for long. In solidarity with his dad, he geared up for his trip to Omaha by donning a patriotic bandana. The above snapshot's caption: "Mom and dad look !!! I think I'm ready to go watch trials !! #usa."
By the time he got off the plane, Boomer was feeling the excitement. "I'm here Omaha !! #watchout."
Boomer rocked blue and white for the trials. This photo is captioned, "Mom and I are excited to go watch dad tonight!!"
Of course, balancing training with parenting can leave Phelps tuckered out. "Thank you @arschmitty for capturing this moment with my sleeping boys...," Johnson wrote. Boomer needs to enjoy cuddly couch time while he can; Rio won't be quite as quiet.
Phelps may be training for Rio, but he's also in fatherhood boot camp. "I'm a proud daddy!!," he wrote on Instagram with the above snap. "Finally figured this out!!!" Even an Olympian knows that mastering the car seat is a serious challenge.
Boomer's training, too: he got his first taste of the swimmer's life at bath time. Johnson used the hashtag #waterlovingfamily when she posted this image; could Boomer already be practicing his backstroke?
Of course, there may be no bigger milestone for a Phelps baby than getting in the pool. "I loved going in the pool today with @nicole.m.johnson (mommy) and @m_phelps00 (daddy) today!" the caption reads. "Can't wait til I get to learn to swim from daddy and @coach_bowman !"
It looks as though father and son will spend a lot of time bonding over swimming. "The little man loved the water today!!" Phelps wrote. "@boomerrphelps and I got some extra laps in today!! #mpswim."
Boomer may be too young to go for a gold medal, but he's rocking the next best thing: gold booties! According to the caption, the American flag shirt was a gift from Olympic Swimming Coach, Bob Bowman.
While fans cheer Phelps in the pool, they can keep an eye on the bleachers for the chance to spot Boomer in one of his trademark star-spangled ensembles. The caption reads, "I'm ready for this summer!! Are you?!? #usa #roadtorio."
It's magical to see Phelps' love for his son. "Just the happiest person in the world!!!," Phelps wrote on Instagram. "#luckydad Amazing family!!" Whether Phelps medals in Rio or not, he's already won.