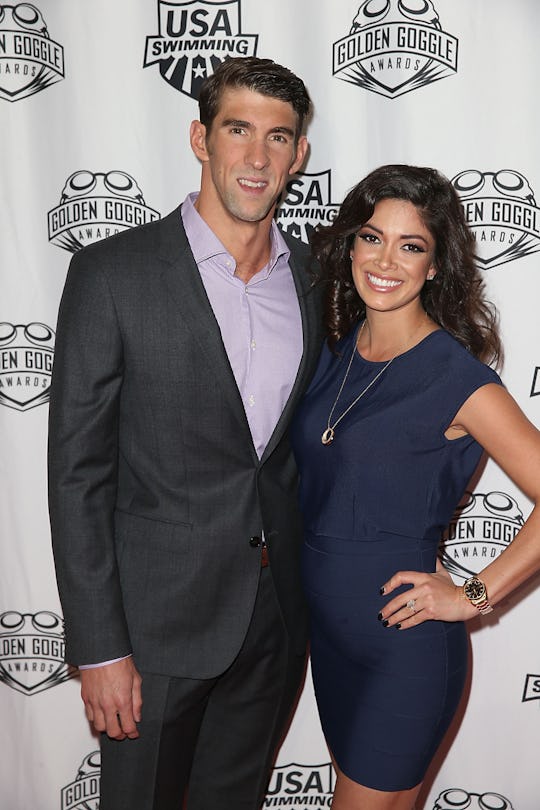 Joe Scarnici/Getty Images Sport/Getty Images
Photos Of Michael Phelps' Son Are So Cute They Deserve A Medal
Just over two weeks ago, Michael Phelps and his fiancée Nicole Johnson announced the birth of their first child, Boomer Robert, on Instagram — with an adorable pic captioned "Born 5-5-2016 at 7:21 pm!!! Healthy and happy!!! Best feeling I have ever felt in my life!!!" And while that first image was breathtaking, all of the photos of Michael Phelps' son will melt your heart. Because they are raw, they are real, and they show the beauty of parenthood.
But so does the video.
(Wait, there's a video?!)
Well, sort of. On Sunday, Boomer Phelps made his video debut thanks to Facebook Live. And even his appearance was but a blip in the 25-minute "chat" between Phelps, Johnson, and their fans, it was immediately apparent just how cute "little dude" was, and just how new this parenting thing is.
I changed my first diaper today....I dressed him yesterday. I dressed him today. I changed his diaper. Now I've got this whole thing down.
(Aw, if only it was that easy!)
Johnson joked that hubby's first diaper change was "a milestone," and Phelps added that, long before Boomer's birth, the idea of changing diapers scared him, not because he was going to mess it up or do it wrong, but because, well, newborn diaper changes can be gross. (So gross!)
The photos that [the doula, Kelly] showed me of what diapers could look like freaked me out, not gonna lie. I was afraid to change a diaper at first, and today I was like, 'I'm gonna do it. I'm gonna have that experience before we leave.'
However, diaper changes aside, there wasn't much else that "freaked out" the Olympian. In fact, in an interview with USA Today, Phelps spoke about the beauty of pregnancy, the very idea of becoming a dad, and the awe he felt watching a little human being grow.
It's kind of funny because we can kind of tell where his butt is, where his feet are, kind of like where he's sitting in her stomach. I remember the first ultrasound we went to; it literally looked like a little, tiny thing. Now, we can see every bone in his body, all the details. It's been pretty amazing to watch, pretty incredible to watch his growth so far.
And the good news is that, while parenting is hard, watching Boomer grow will only get more and more amazing with each passing day.