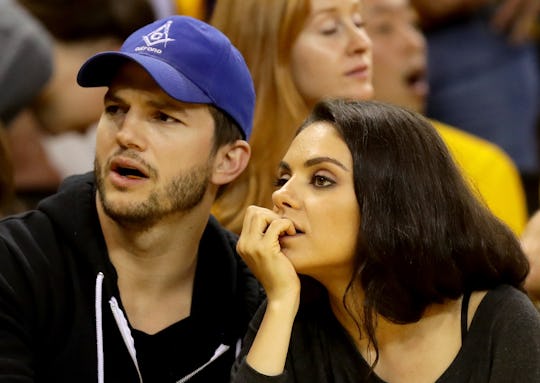 Ezra Shaw/Getty Images Entertainment/Getty Images
Photos Of Mila Kunis & Ashton Kutcher's Baby Boy Don't Exist Yet & That's Perfectly Okay
Actress Mila Kunis and husband, actor Ashton Kutcher, welcomed a baby boy into the world last Wednesday. The seriously cute couple more than likely created an equally adorable baby, expanding their once-family of three (the new tot joins 2-year-old daughter Wyatt) into a family of four. Instantly, fans were dying to know the details — what was the baby's name? Did it have Kunis' eyes or Kutcher's nose? If eager fans are looking for photos of Mila Kunis and Ashton Kutcher's baby boy, they should know that they're more than likely not going to find them anytime soon — and that is perfectly fine.
The couple welcomed their son — Dimitri Portwood — earlier last week on Nov. 30. In the past week, the Kunis-Kutcher family has more than likely been spending time together as a foursome, taking in every moment they can together before Kunis and Kutcher go back to work. It's likely that they've been enjoying these precious first days after the baby's birth without having to worry about much else — aside from changing dirty diapers or about the amount of sleep they're getting, of course. The last thing Kunis and Kutcher are probably worried about is posting photos of Dimitri for all of the world to see. Not that they ought to be.
As of Sunday, no photos of Dimitri exist on the internet — but that doesn't mean it won't happen eventually. Right now, it more than likely means that the parents are busy and will do it on their own time, when they feel comfortable sharing Dimitri's undoubtedly adorable mug with fans. An announcement of Dimitri's birth was posted to the website that Kutcher owns, A Plus, on Friday along with a simple statement about when Dimitri would be introduced to the world. Kutcher told the website:
We'd like to allow our kids to make their own choices on whether to have a life in the public eye or not. We don't want to make the choice for them.
That is a completely fair statement. With such famous parents, Dimitri will be watched like a hawk as he grows up in the public eye. Subjecting a baby to that just days after their birth, when he'll likely already have a lifetime cameras following him around, seems a little unfair.
But don't be discouraged about not seeing little Dimitri just yet — eventually, he'll likely make an appearance, just like his sister, Wyatt. Even though Kunis and Kutcher are not constantly posting photos of their daughter, photographers have captured pictures of the family while they were out running errands — so the little one hasn't been completely hidden from the public.
Until photos of Dimitri are released to the public, it is important to respect Kunis and Kutcher's decision to keep their son's image private. We'd all do well to practice a little patience in a situation like this anyway.