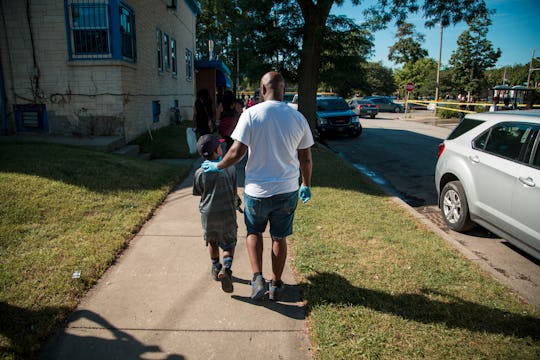 Darren Hauck/Getty Images News/Getty Images
Photos Of Milwaukee Cleanup Show A Community Attempting To Heal
Volunteers joined together on Sunday in north Milwaukee to clean up debris after a night of unrest following a police officer's shooting of a man fleeing from a traffic stop. It was a devastating night for the Wisconsin city: A gas station and auto-parts store were set on fire, bricks were being thrown though store windows, and gunshots could be heard around the north side neighborhood. However, when the sun came up the next day, around three dozen volunteers started to clean up the city they call home, and photos of the Milwaukee clean up show a city attempting to heal after tragedy. The unity and emotion captured in those images are inspiring.
The volunteers spent their Sunday sweeping up pieces of shattered glass and collecting bricks and other debris from the streets. Large plastic garbage bags were handed out to the volunteers at 8 a.m. CT in Milwaukee's Sherman Park. The Coalition for Justice led the clean up efforts and began the day with a brief prayer. Nate Hamilton, a member of The Coalition for Justice, talked people off their porches to help take part in the clean up. Hamilton told a local Fox News affiliate that the people of Milwaukee "need to continue to love and inspire people with an atmosphere that changes the way they look at things."
Journalists and photographers from across the nation descended upon the city of Milwaukee to cover the events of the riots. Instead, they found something altogether different from the violent protests of Saturday night. The images captured in the day following the riots align with Hamilton's hope for the city of Milwaukee.
Darlene Rose, a 31-year-old volunteer, spoke with ABC about the clean up. Like many people following the events of Saturday night, Rose understands the anger that caused the riots. But the chaos of the night before, she says, "doesn't help... if you're going to make a difference, it's got to be an organized difference. The people that came and looted, you're not going to see them here today." The people who did come out to clean up their neighborhood, though, show what it truly means to have community spirit:
As the city continues to clean up the debris and damage from this weekend's riots, the community will continue to work together to heal — coming together to repair the devastation is just a start.