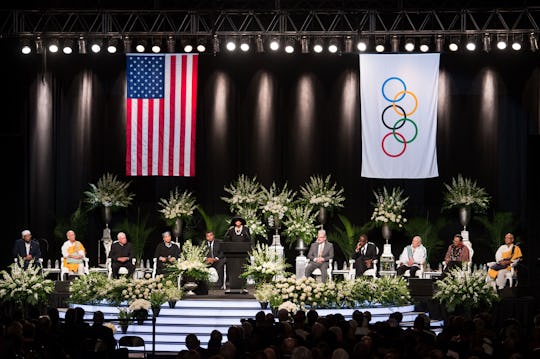 MICHAEL B. THOMAS/AFP/Getty Images
Photos of Muhammad Ali's Funeral Show He Will Never Be Forgotten
Just one week ago, the world lost one of it's greatest boxing legends of all time — Muhammad Ali. Ali was known for not only his great strength but his wildly inspiring personality; a combination to make him one of the greatest sportsmen of our time. It is no surprise that photos of Muhammad Ali's funeral show that he will never be forgotten.
Ali's funeral was held one week after he died, on Friday June 10, in Louisville, Kentucky. The public ceremony was held at the KFC Yum! Center in Louisville, and had both private and public ceremonies for Ali's closest friends, family, and of course, fans who loved him dearly. According to CNN, the processional, which transported Ali's body to the cemetery, drove by all of the important spots in Ali's life in Louisville. Louisville, the city where Ali grew up, meant so much to Ali as he did to it's residents, and was often referred to as the city's hero.
The public funeral featured distinguished speakers, such as actor Billy Crystal, and former President Bill Clinton to eulogize Louisville's hero. Additionally, even more distinguished celebrities, such as Will Smith, were in attendance to pay their respects to the great athlete. But in order to see just how many lives Ali touched, you have to see the photos from the funeral, that truly speak for themselves.
Crystal, best known for his roles in When Harry Met Sally and the voice of Mike Wazowski in Monsters Inc. had been friends with Ali for 42 years after Crystal was hired to perform at an event honoring Ali. According to Crystal, Ali had told him "you're my little brother," and called him that every time he saw him afterwards. "Thirty-five years after he stopped fighting, still the champion of the world. He was a tremendous bolt of lightning created by Mother Nature," Crystal said of Ali.
"He figured out from a very young age who he was and what he believed and how he could live through the consequences of acting in line with his beliefs," Clinton said of Ali at the ceremony. "Not many people make it to the last step."
According to the BBC, Ali's wife, Lonnie had this to say about her husband, "If Muhammad didn't like the rules, he rewrote them. His religion, his beliefs, his name were his to fashion, no matter what the cost. Muhammad wants young people of every background to see his life as proof that adversity can make you stronger. It can not rob you of the power to dream, and to reach your dreams."
While neither Will Smith or boxing great, Mike Tyson speak at the ceremony, the two did carry Ali's coffin to the cemetery after being a part of the processional, according to People.
The processional expected thousands of people to line the streets of Louisvillle, according to The Guardian and they did. All people — young and old — held posters honoring the city's hero and shouted his name as the processional drove by.
If there is one thing that photos from Muhammad Ali's funeral can show us is that the quotable and notable legend will never be forgotten.