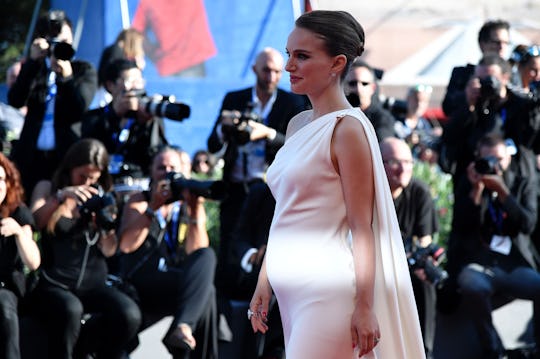 Photos Of Natalie Portman's Son Are Hard To Find, & That Likely Won't Change
Actress Natalie Portman has been very private about her family and keeps her son away from the public eye. Photos of Natalie Portman's son are hard to find, and that likely won't change now that she is reportedly expecting another child. On Thursday, US Weekly reported that Portman is pregnant with her second child. Portman's representative hasn't responded to Romper's request for comment.
Pictures of Portman attending the premiere of her film Planetarium during the 73rd Venice Film Festival in Venice, Italy, show her with a visible baby bump. Us Weekly reported that Portman was not hiding the pregnancy, and was even seen rubbing her belly at the event.
Portman and her husband Benjamin Millepied met on the set of 2010's Black Swan and married in 2012. In 2011, Portman gave birth to her first child, son Aleph, who is now 5. The actress isn't on social media and doesn't reveal photos of Aleph. Despite this, she's been open about her experiences as a mother.
In an interview with Elle UK, Portman said that being a parent is harder than any role she's played.
I love being a mom, but it's much more intensive work than being an actress – going to work feels like you've got a day off. Not that I want a day off from being a mom, it's just perhaps I had this impression before that moms don't work. But they work more than anyone.
Portman makes it a point to provide as much of a normal life for her family, and spends downtime with her husband and son the way many moms do.
"When I'm not working, I'm pretty much exclusively with my family, so my rituals have to do with school, meal preparation, playdates, bedtime," she wrote for The New York Times' T Magazine. "I do the whole week's laundry, which I love because it's a task with a clear beginning and end. And then we spend the weekend together as a family – usually somewhere in nature, often with friends who have children. Lots of cooking."
In her writings, Portman also lamented how fast time goes by once becoming a parent.
After giving birth to Aleph, Portman asked friend Cate Blanchett about how she balances being a mother and an actress. She revealed the conversation in an interview with Harper's Bazaar: "I said, 'How do you do it? You're a mom. You're the best at what you do.' She said, 'You just do. Stressing about it doesn't help.'"
In her Oscar acceptance speech, Portman thanked her husband for giving her "the most important role" of her life. Now it looks like Portman will get to take that role on for another little one.