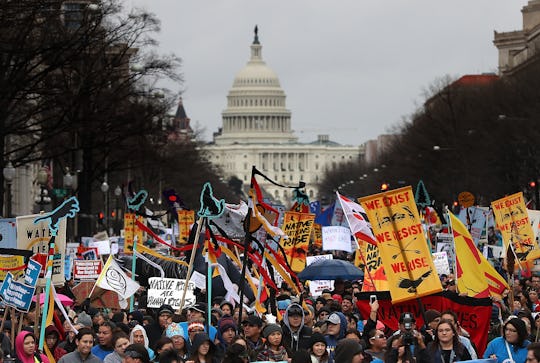 Justin Sullivan/Getty Images News/Getty Images
Photos Of DAPL Protests In D.C. Are Powerful
It's been two weeks since protesters were ordered to leave their camps near the Dakota Access Pipeline construction area in North Dakota, but that doesn't mean they've given up the fight. On Friday, Native Americans protested pipeline projects in Washington, D.C., and they were supported by protesters and allies in cities across the United States. During the rally, called "Native Nations Rise," protesters called for an end to projects like the Dakota Access Pipeline and the Keystone XL Pipeline, both previously nixed by President Obama only to be resurrected by the Trump Administration.
Just because the pipelines got pushed through, however, doesn't mean that protesters have laid down their picket signs. Hundreds of activists showed up in Washington on Friday from across the country, and sister events went on in Los Angeles, New York, Michigan, Washington state, and Nebraska, according to Mic. Activists burned sage in front of the Army Corps of Engineers headquarters and marched past the Trump Hotel to the White House.
"I think a lot of people feel as though we have lost, but we haven't lost," Eryn Wise, who works with the International Indigenous Youth Council, told ThinkProgress. "We have awakened so many folks to water rights issues, to indigenous land rights issues, to the issues that face women of color and marginalized communities."
Photos and videos of the Native Nations Rise rally in Washington prove Wise is right: this movement is nowhere near defeated. In fact, it might be stronger and more determined than ever. Here are just a few of the powerful pictures that show the scope of the protest:
Tom Goldtooth, executive director of the Indigenous Environmental Network, told ThinkProgress that there's been a positive turning point in terms of support. "This is a moment in time when people are starting to see that their rights are going to be violated — indigenous rights, but human rights as well," he told ThinkProgress. "They are ready to challenge a system that needs to be changed."
In the days before the march on March 10, four tipis were set up on the Washington Monument grounds in front of the White House, and protesters took part in cultural workshops and listened to presentations and speakers. The event culminated with Friday's march. According to NPR, indigenous communities are asking President Trump to meet with them and discuss existing treaties. Lonnie Whitemountain, a Standing Rock Sioux tribe member who drove 33 hours to take part in the protest, told NPR:
I would tell [President Trump] they need to stop these pipelines that are destroying our water. He needs to listen to us and realize that he should think about all of our lives.
With a movement this determined and this long-lasting, something has to give. Because as pictures of the protest in Washington prove, Native American protesters won't be giving up anytime soon.