Jamie McCarthy/Getty Images Entertainment/Getty Images
Photos Of Nick & Vanessa Lachey's Kids Show That Their Family Knows How To Have Fun
TV host and actor Vanessa Lachey posted a pregnancy announcement to Instagram Friday: an adorable photo heralding the arrival of her third child with singer and TV personality Nick Lachey. To the delight of followers, the two parents have chronicled their family life on Instagram. A pregnancy announcement is a seriously special occasion, but photos of Vanessa and Nick Lachey's kids show that the Lachey clan knows how to turn any day into a celebration.
The Lachey's pregnancy announcement features a photo of Vanessa and Nick standing on the stairs to their new home with their two children, Brooklyn Elisabeth and Camden John, and their dog, People reported. Text layered over the image reads, "We got a new crib! Now we need a new CRIB! Newest Lachey arriving Spring 2017." Vanessa wrote in the caption, "#LacheyPartyOf5... and Wookie!" Though the news is only official today, Vanessa hinted at the possibility of a third baby earlier this year when she told E! News in June, "If we're blessed with No. 3, it's just going to be that much more exciting. If it happens, it happens!"
Adding a child to the family creates an entirely new dynamic, but the Lacheys have been through that transition before. During an interview with TODAY, Vanessa shared her strategy for making son Camden comfortable with the Lachey family's second baby, Brooklyn:
...I made it my priority to not play favorites, and every single waking moment is a learning moment. And so when I wake up and see Camden, I say 'Good morning, I love you,' and then I look over at her and say 'Good morning, Brooklyn, I love you.' Because the second that you hone in on just one child, you're playing favorites and they see that and pick up on that.
The Lacheys face the normal growing pains of a family on top of the pressure of raising kids in the public eye. But talking to Parenting, soon-to-be dad of three Nick Lachey said he cares about keeping his children grounded: "Normal is what you make it, and I think it comes down to good parenting. I won't be a pushover—kids need discipline supported by love." The Lachey kids may not be aware just yet of how famous their parents are, but they're already gaining a following of their own on social media. And based on all of the fun they seem to be having, it looks like the new addition to the family is in for a fantastically good time:
Celebrating Birthdays
Camden's third birthday included a Build-A-Bear Minion Station: definitely a Despicable Me fan's dream come true!
When little Brooklyn turned one, she donned a crown fit for royalty. Vanessa wrote, "Sweetest Baby Brooklyn, we are so excited to see what the next year has in store for you! Here's to Living, Loving & Laughing... A LOT!"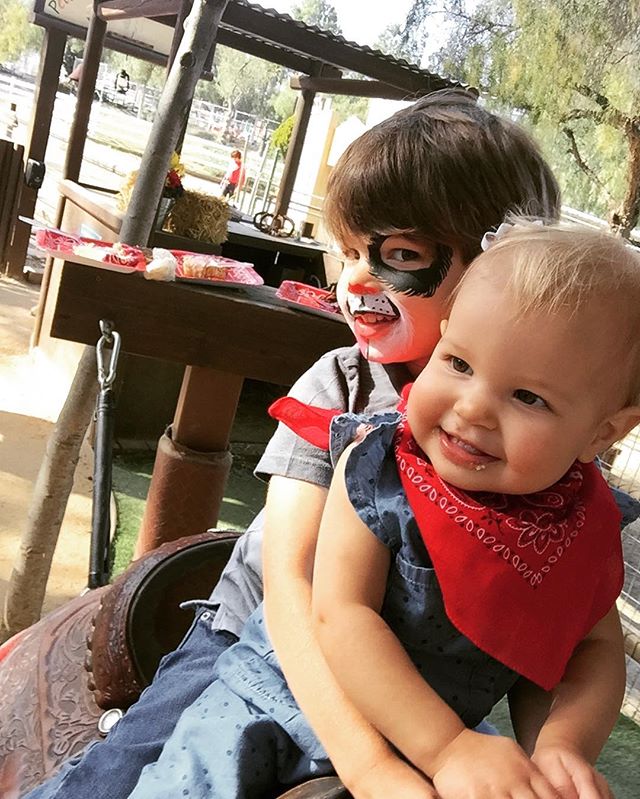 It's unclear who was having a birthday party here, but Vanessa wrote that this was "a rare moment of sibling happiness! All it took was a ranch with ponies, birthday cake, bandanas, face paint and a saddle riding barrel."
Celebrating Holidays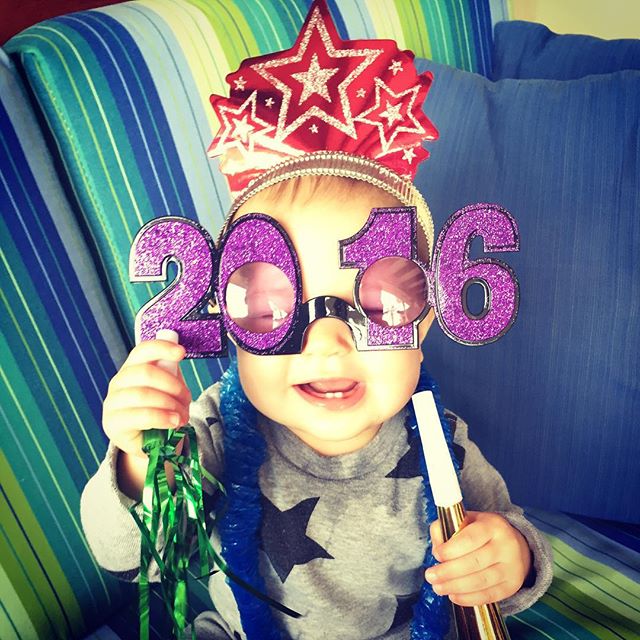 Baby Brooklyn cheered in the new year with spectacularly stunning accessories.
This Valentine's Day snapshot shows a delightfully loving moment between brother and sister.
Easter isn't complete without a visit from the bunny! Vanessa wrote, "Feeling pretty Blessed with this sweet little family of mine."
The Lacheys rocked ensembles straight out of Neverland for Halloween one year. "Peter, Hook, and the Croc had a great time trick or treating tonight....," Nick wrote.
The Lachey family members may have outdone themselves when they dressed up as characters from Toy Story for another Halloween. Brooklyn made an adorable Hamm!
This image from the Lachey's 2013 holiday card is fantastically adorable. Looks like Santa's got a new reindeer!
Celebrating Every Day
No holidays needed: the Lacheys can make any day special. Here, Camden has a blast playing in the leaves on a beautiful fall day in Ohio.
What "#SundayFunday" is complete without getting a bit goofy? Camden seems to have his dad's great sense of humor.
Earlier this summer, Vanessa hopped on a ferris wheel with Camden for a "#DayDate."
And just this week, Vanessa posted about their "family backyard camping party." Those s'mores look amazing.
The new baby Lachey won't be starring in any snapshots until the spring. But until then, fans can delight in watching the Lachey family of four prepare to become a family of five.
Seriously, Instagram can't handle this level of cuteness.