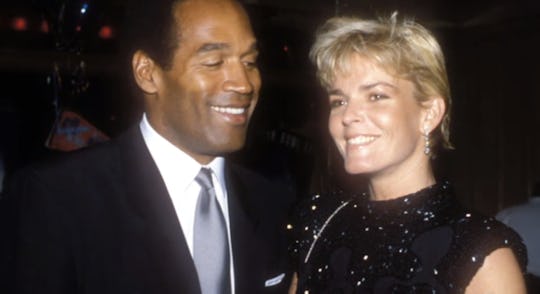 ABC
Photos Of Nicole Brown Simpson Are Powerful Reminders Of What Was Lost
On Feb. 2, the miniseries American Crime Story: The People v. O.J. Simpson premiered on FX. Featuring an array of celebs, from John Travolta (as Robert Shaprio) to Selma Blair (as Kris Jenner), the show revisits what is sometimes called the trial of the century. If early interest in American Crime Story is any indication, over 20 years after the Simpson murder trial riveted the nation, America is not over it. Photos of Nicole Brown, Simpson's ex-wife, one of the victims, are a powerful reminder of why: radiant, apparently beloved, and also allegedly bruised and battered by her ex-husband, images from Brown's life convey, in part, how much was lost when she and her friend, Ron Goldman, were killed in front of her Brentwood, California townhouse on June 12, 1994.
(Romper reached out to O.J. Simpson's attorneys for comment on the allegations that he battered Nicole Brown but did not immediately hear back.)
Brown left a powerful legacy. Her death was senseless and brutal, but the attention the trial garnered arguably put domestic violence on the national radar in a way it never had been before. In the past 20 years, domestic violence solution legislation has increased exponentially, and high-profile people like Kris Jenner, friends of women who suffered domestic violence, have repeatedly spoken out about how important it is to ask concerned questions when you think someone you love is in a violent relationship. In the LMN documentary The Secret Tapes of the O.J. Case: The Untold Story that aired in September 2015, Jenner said, "I will always feel guilty that I didn't pay more attention and speak up when I thought anything was wrong or ask her more, 'Do you want to talk about it?'"
Nicole Brown was only 35 years old when she was killed. Here are photos of her at various points in her life, as a sister, wife, mother, and most importantly, an individual.
Brown With Her Sisters
Nicole was reportedly close with her older sister, Denise, and younger sister, Tanya. In an ABC special aired in advance of the LMN documentary (which showed the photo above), Tanya remembered O.J. Simpson as being fun and kind.
Brown At The Beginning Of Her Relationship With O.J. Simpson
Brown met Simpson at a Beverly Hills nightclub called The Daisy in 1977, according to Biography. The photo above was taken at The Daisy that year. Simpson was married at the time but divorced in 1979. The photo below was taken in 1981, four years before Brown and Simpson married. They were attending 'Come Blow Your Horn' at the Huntington Hartford Theatre in Hollywood.
Brown During Her Marriage To Simpson
The photo above was taken on May 13, 1987 at the premiere of the movie Ishtar in Century City, California. According to Brown's friend Kris Jenner, whose then-husband Robert Kardashian became a member of Simpson's "Dream Team" of defense lawyers, said of the Kardashians' friendship with Brown and Simpson, "We all bonded. There was great chemistry. It was great friendship...a great life." However, there were signs that the marriage was troubled. Friends and family members later recalled seeing bruises on Brown's body, according to Biography. Simpson and Brown divorced in 1992.
Brown After The Divorce
These photos were taken in March, 1994, two years after Simpson and Brown divorced, at the premiere of Simpson's movie Naked Gun 33 1/3. Brown and Simpson had two children, daughter Sydney (born in 1985) and son Justin (born in 1988) with Simpson. According to Biography, she was a dedicated and involved parent who spent as much time with her kids as possible. Their aunt, Tanya Brown, told Radar Online in August 2014 that after Brown's death, the Simpson kids couldn't have a normal childhood. In spite of that, Taryn Brown claimed, they're doing well:
They're in their late 20s. They're professional. They've gone to college. They're in relationships. They're happy. They're just like us. Quote unquote.
Brown's Hidden Photos
In December 1994, prosecutors obtained a warrant to open Nicole Brown Simpson's safe deposit box. The box contained Polaroid photos of Brown's face, allegedly taken after O.J. Simpson beat her, along with her diary, in which she described incidents in which Simpson allegedly took a baseball bat to the windshield of her car, beat her during sex, and grabbed her crotch in public saying, "This belongs to me. This is where my children come from," a 1995 wire service story reported. Both were presented at O.J. Simpson's trial in an attempt to show that Simpson had a history of abusing his ex-wife.
During the Simpson trial, the prosecution also played a recording of two 911 calls Brown placed in 1993 in which she told police, "My ex-husband has just broken into my house, and he's ranting and raving outside in the front yard," The Chicago Tribune reported. During one of the calls, which were included in the2015 ABC special, Brown can be heard saying, "He's going to beat the sh*t out of me." When the photos were shown and the call played at Simpson's trial, they forced domestic violence into mainstream cultural discussion in a way that it hadn't been before.