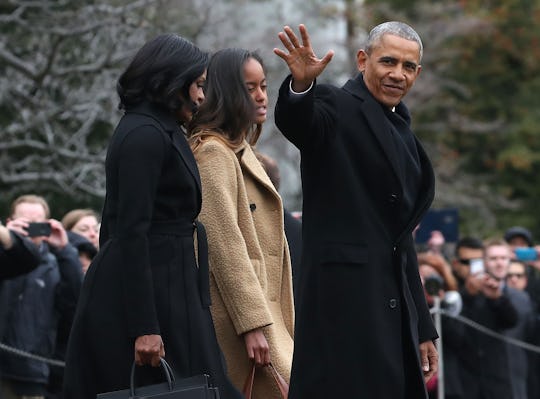 Mark Wilson/Getty Images News/Getty Images
Memorable Photos Of Obama's Farewell Address
President Barack Obama has delivered dozens of powerful speeches over the last eight years and tonight he said his final goodbye to the American people, capping off of a months-long farewell tour in his adopted hometown of Chicago — the city where he accepted his presidential victories twice, first in 2008 and again in 2012. So, whether you loved him or hated him, his presidency was significant and these photos of Obama's farewell address symbolize how pivotal his time in the White House truly was in this nation's history, which has been rooted in a hopeful vision starting with his first, and now legendary, message: "Yes we can!"
As Obama prepares to leave the Oval Office in just a matter of days, browsing through this collection of memorable images of Obama delivering his last speech as the 44th president of the United States — and the first African-American leader of the free world — will serve as one final reminder about why it'll be so hard for many to see him go.
Certainly, saying goodbye will be hard for many and one possible way to cope with the final days of Obama's presidency is to see the impact he's had on people over almost a decade and remember how much has been accomplished during these years. And one lasting memory Obama left of us with on Tuesday night was how he chose to deliver is farewell address, which many will remember not as "a victory lap" but as "a call to action to the next generation of leaders," according to The Chicago Tribune.
"It's a passing of the baton," White House spokeswoman Jen Psaki told a group of reporters on Monday evening, according to The Chicago Tribune, adding that Obama chose to deliver his final remarks in the Midwestern city because "it's where he really first learned the lesson … that it's about the actions of individuals and the actions of people, that's how real change happens."
And these photos show just that: A positive and hopeful message to future leaders, while reflecting on how these memorable eight years got started. So, without further ado, let's take a look at these photos from Tuesday night's speech that will remind us once again why so many will miss Obama in the White House:
It's no secret that many Democrats (along with plenty other Americans who align with other political parties) are devastated by this year's election results and are scared about how the incoming Trump administration might push back miles of significant progress made in recent years.
But, Obama's farewell message was clear. It reminded Americans to have faith in this nation's future leaders — even when they don't make it easy — and served as motivation for citizens to get involved in their government and fight for this nation's democracy to keep moving forward to be a part of the change we want to see.