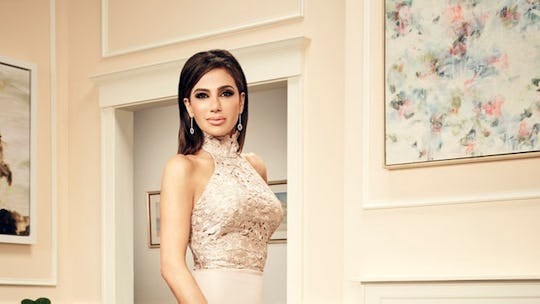 Tommy Garcia/Bravo
Photos Of Peggy Sulahian & Her Kids Prove This 'RHOC' Star Is A Great Mom
As Bravo's 100th Housewife and the latest addition to Real Housewives of Orange County cast, Peggy Sulahian was instantly interesting to fans. Although she hasn't caused much of a stir on the show just yet, there is always time for her to make her mark. In her personal life, Peggy and her car mogul husband Diko have three kids, Giovanna, Gianelle, and Koko, and they seem to be a really fun, happy family. As a frequent Instagram user, she's always posting a lot about her children, and photos of Peggy Sulahian and her kids prove she's a great mom.
Since Peggy and Diko have pretty amazing genes themselves, it's no wonder their kids are beautiful, and it doesn't hurt that they all look just like their mom. Giovanna, who recently turned 20, is the oldest and the namesake behind Diko's car company, Giovanna Wheels. Gianelle, the middle child, just celebrated her 18th birthday two weeks ago, and last but certainly not least is 10-year-old son Koko.
It's pretty clear from Peggy's social media posts that she adores her children, and that Diko does too. The Sulahians seem to be a pretty tight-knit family who enjoy spending a lot of time together.
"Practicing our "Blue Steel" Look," Peggy wrote in the caption of this picture of her, Diko, and Koko. I hope this is their Zoolander 3 audition because it's all sorts of amazing.
The family gathered for a sweet shot at Gianella's high school graduation. Check out all the girls in white and the guys in black leather jackets. Clearly, this is a family of fashion icons.
Peggy loves celebrating her kids' birthdays, so the whole family wearing shirts with Koko's name on it when he turned 10 a few months ago seems very on brand for the Sulahians.
This picture is really making a strong case for Koko being one of the cutest Housewives kids ever.
Once again, the family rolled up to an event in super sleek, color-coordinated outfits. Can they just adopt me?
"Love my family," Peggy wrote in the caption of this photo. "Kids are growing up so fast I can't believe it." While her children are definitely not babies anymore, she and Diko seem to have done an awesome job raising awesome, smart, and on a less important but equally cool note, well-dressed, kids. Peggy definitely has a lot to be proud of, and it's pretty clear she knows that.