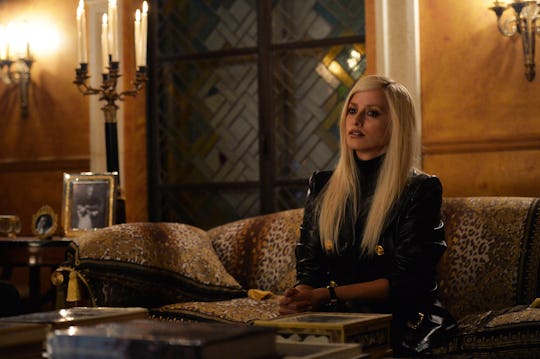 Jeff Daly/FX
These Photos Of Penelope Cruz Vs. Donatella Versace Will Make Your Jaw Drop
American Crime Story is back with an all new season, this time looking into the assassination of fashion designer Gianni Versace. The new series has an incredible cast, which includes Édgar Ramírez as Versace, Darren Criss as his killer, Andrew Cunanan, and Penélope Cruz as Versace's younger sister, Donatella. And if you had any doubts about whether or not Cruz was perfectly cast for the role, these photos of Penélope Cruz compared to Donatella Versace are sure to make you reconsider.
When Cruz was asked to take on the role, she told Extra TV that she spoke to Donatella first just to see if it was OK. "We spoke about a lot of things, about things she told me about her life," Cruz revealed. "She also said, 'If somebody is going to play me, I am very happy that it is you,' and for me, if I wouldn't have heard those words, I wouldn't have done it." However, despite this interaction that Cruz described, Donatella recently told Italian newspaper la Repubblica she won't be watching the series "because after all this time it still hurts to see Gianni represented untruthfully."
This matches up with the two statements her family gave about the series. First, on Jan. 8, the family said they "neither authorized nor had any involvement whatsoever" with the new TV series and that it "should only be considered as a work of fiction." FX and 20th Century Fox then defended the series, standing by the book, Vulgar Favors by Maureen Orth, upon which the show is based.
The Versace family then released a follow-up statement, claiming that the book is "full of gossip and speculation" and that it was "sad and reprehensible" for the producers to use Orth's book for the basis of the show. But despite the backlash from the family, the show most go on. However, before you tune in for the premiere, check out these photos of Cruz and Donatella to see just how much they look alike.
Their Facial Features Are Very Similar
Even though Cruz is Spanish and Donatella is Italian, they still share some of the same features, making the resemblance uncanny.
The Blonde Hair Is Perfect
Whoever picked out the wig for Cruz did a great job. The long blonde hair with the side swept bangs are spot on and look just like Donatella's hairstyle.
Even Their Posture Is Similiar
Their head tilts on red carpets are very similar and it looks like Cruz probably had an easy time getting Donatella's mannerisms since they already had similar poses.
They Have The Same Frame
Donatella has always had a small frame and Cruz's body type is very similar to hers.
Obviously, Cruz is the right person for this role, whether she truly got Donatella's blessing or not. Not only does Cruz look like Donatella, but there's no doubt the Oscar winner will be able to bring Donatella's personality to the role as well, especially since Cruz knows her in real life. Based on the trailers, Cruz also got her Italian accent down perfectly. It sounds really authentic.
You can see Cruz step fully into character when The Assassination of Gianni Versace premieres Wednesday, Jan. 17 at 10 p.m. EST on FX. Trust me, you won't want to miss this new season of the critically acclaimed anthology series. Although the style of the show will be slightly different, working in a backwards timeline rather than a forward one, it will still bring the same level of interest and drama that the first season was known for.
Check out Romper's new video series, Romper's Doula Diaries:
Watch full episodes of Romper's Doula Diaries on Facebook Watch.