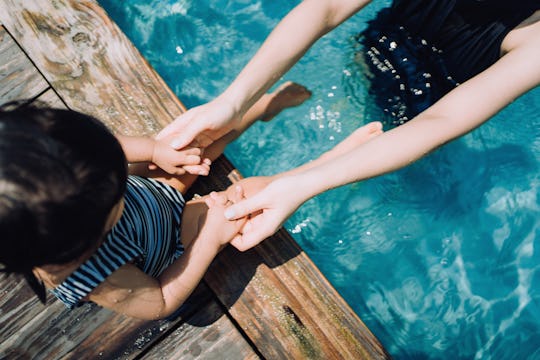 D3sign, Getty Images
20 Photos That Offer A Glimpse At What Pools Look Like Post Coronavirus Shutdown
Nothing says summer quite like a day at the pool. But just as the ongoing coronavirus outbreak has reshaped aspects of our daily lives, it's also changed what a trip to the pool looks like. In fact, photos of pools reopening show how coronavirus precautions have altered one of summer's most popular activities.
As a result of the pandemic, folks can expect to find a slew of additional rules and precautions in place at their local pool — if it's even allowed to reopen. In an effort to reduce the risk of infection, pools given the green light to reopen have instituted a number of health and safety measures, including reducing capacity, lifeguards in face masks, increased cleaning and disinfecting, jumbo-sized bottles of hand sanitizer, and frequent reminders about hand washing and social distancing. But is swimming safe?
As of July 1, the Centers for Disease Control and Prevention (CDC) noted in a guidance for beaches and pools that there is "no evidence that SARS-CoV-2, the virus that causes COVID-19, can spread to people through water in these places." Even so, the CDC has urged pools and aquatic centers to promote behaviors that prevent the spread by posting signs reminding visitors to follow safety measures. Pools are also asked to have an adequate amount of soap, hand sanitizer, paper towels, tissues, cleaning supplies, and no-touch trash cans.
For pool-goers, the CDC recommends anyone over the age of 2 wear a face covering when not in the water. Folks should also bring their own hand sanitizer, disinfectant wipes, tissues, and paper towels and avoid sharing items such as pool toys or floats with anyone who does not live in their house.
Of course, not every state has moved to reopen public pools. In Chicago, for example, Mayor Lori Lightfoot announced that she had no plans to reopen pools and beaches across the city any time soon due to such places being "ripe for congregate gathering and not social distancing." According to NBC News, Lightfoot said city officials did not want to hinder or derail the progress currently being seen in lowering coronavirus case numbers.
To the south, concerns over a recent surge in coronavirus cases has led officials in Austin to close a number of other city pools after short-lived re-openings.
Those looking to beat the heat with a swim are urged to check with their local pool before grabbing their towel and heading out the door. If you do, here's a look at what it could look like.