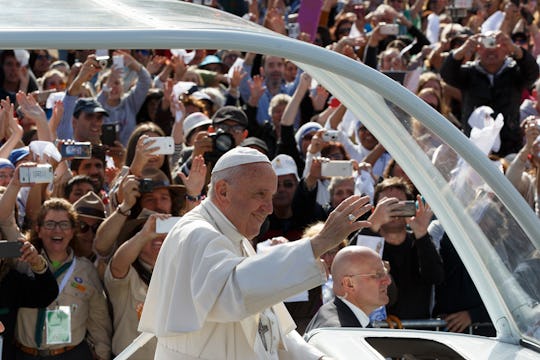 Pablo Blazquez Dominguez/Getty Images News/Getty Images
Photos Of Pope Francis Meeting Trump Are Amazing
What do you get when you combine the leader of the Catholics and the most controversial American president in modern history? A really great photo opportunity, apparently, because the photos of Pope Francis meeting President Donald Trump are more awkward than Michael Scott from The Office. It really shouldn't come as a surprise, since the pair haven't exactly taken great pains to hide their feelings for one another. But forcing them into a room together and telling them to be nice had some pretty hilarious results. Trump does a great job of pasting on a smile, but Pope Sullen is having none of that nonsense.
The most widely-shared photo includes the president's family/Cabinet: son-in-law and senior adviser Jared Kushner, daughter and "assistant to the president" Ivanka Trump, and his long-distance third wife Melania Trump. The trio look somber as the president grins at the camera. Meanwhile, the Pope looks positively miserable to be included and seems to have no problem letting everyone know it. He is every teen in every family photo, ever. More than one Twitter user has already juxtaposed the image with one of the Pope and President Obama, laughing like old friends over a beer.
But that's just one picture. Surely that doesn't tell the whole story, right? Let's try again. Maybe a candid photo this time; those are always more true to life.
Yup, everyone looks totally thrilled to be together there. The Pope has never criticized Trump directly (that's wouldn't be Pope-like, as Trump would say) but he has shaded the hell out of him in numerous speeches, implying that he's a hypocrite, "not Christian," and "not human." The Pope's also a master of the sub-tweet, making him a perfect adversary to this particular president.
But it wasn't all frowns. The pair did smile at each other while exchanging gifts. Wondering what the Pope gave Trump? A set of books by Martin Luther King Jr., an autographed medal symbolizing peace, and a letter about climate change.
Trump and his entourage were only welcomed into the Vatican for a total of 30 minutes, during which the Pope asked Melania if she fed her husband "putizza," the Italian term for potica, a traditional Slovenian dessert. Was it a nod to her roots, or something more shady? I don't expect that question will ever be answered, and I'm OK with that.
This one has me kind of worried, actually, because the Pope looks worried, and the Pope by definition believes that everything is going to be fine, right? You're going to Heaven, buddy, what did Trump say to make you make that face?
And here he looks like someone who just remembered, as his plane was landing, that he left literally every appliance on at home, and maybe a few faucets, too. Stop freaking me out, Pope, and go back to being grumpy!
Much better. Thanks, Pope.