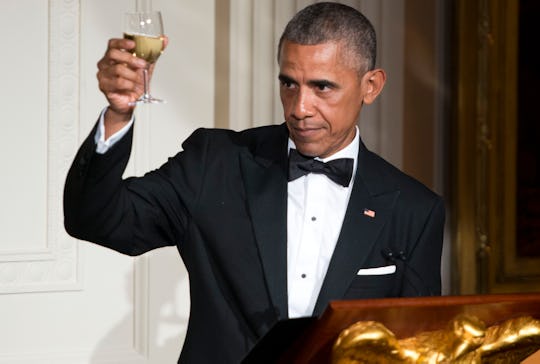 Pool/Getty Images News/Getty Images
Photos Of President Obama That Will Remind You Exactly Why You're Going To Miss Him
Exactly one month after America turned 240 years young on July 4, President Barack Obama is turning 55. He doesn't look a day over 30, though, of course. While all birthdays are a cause for celebration, there's something particularly special about this one. This is sadly the last birthday our Commander in Chief will be spending in the White House. As Obama's second term winds down, it's getting harder and harder to accept that he's almost done leading our great nation. From his inspirational speeches to his impressive arsenal of dad jokes, there's too many reasons to count and too many hilarious, heartwarming, or memorable photos of President Obama that prove exactly why so many people are going miss Obama when his term is up.
The best way to deal with the looming end of Obama's presidency is to revisit all the reasons we've loved having him as our Commander in Chief. Let's take a look at some of the birthday boy's shining moments from the last eight years. Get your tissues ready and try not to get too upset thinking about saying goodbye to one of the coolest President's America has ever had. There are still five more months left for Obama to have some more mic dropping moments before he says goodbye.
And if you're still unable to cope? Take a look at these photos and feel better about life in general:
He's had a presidential smile since childhood
I mean, come on, who wouldn't want to pinch those cheeks?
The first couple are #relationshipgoals AF
Just look at that smile.
This throwback photo, which provides excellent insight on the whole "Let's Move" initiative...
He clearly lead by example with his love of sports.
He showed us just how much he loves & respects his wife
Did I mention that Barack and Michelle are #relationshipgoals? Because this tweet just confirms it.
When his shade game was on point
He makes being cool, calm, and collected look easy. Remember when he and Keegan-Michael Key hit it out of the park at the White House Correspondents' Dinner?
We'll never see BFF's like Barack & Joe again
Okay, this one isn't a photo of Obama per se, but isn't it crazy adorable? More than just co-workers, these two will be friends for life.
This photo of the president & his daughter, which will melt your insides with love
... And he's not afraid to embarrass them on their birthdays like any other dad would.
Appreciating his wife's incredible fashion sense
It's not that hard when you're married to Michelle.
Proving that he's a kid at heart
It's important to de-stress at the end of the day.
His late night appearances were legendary
Can Obama slow jam the news everyday?
The president with his dogs, who will be missed just as much as the first family
Bo and Sunny are just as presidential as any other White House occupant throughout history, face it.
This video that proved he knew how to connect with the American public...
... And could make us laugh while doing it.
There are so many more reasons to miss Obama once he packs his bags and moves out of the White House. Hopefully he's enjoying his last birthday in the West Wing.