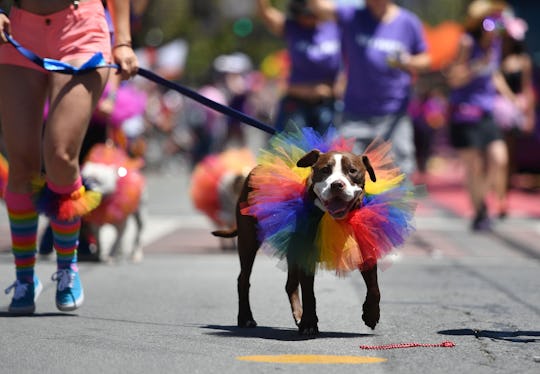 JOSH EDELSON/AFP/Getty Images
Photos Of Pride Parades Around The World Show That Love Wins Every Time
LGBTQ pride parades started as a defiant act of protest, and, although now mostly joyful, you can't help but miss the weighty, difficult messages that were going on among all the glitter and doggy tank tops. If you've never been to an LGBTQ pride parade, do yourself a favor and go to one. Not only are they inspiring and important, they're a lot of fun too. Just take a look at these photos from pride parades across the world.
Pride parades started on June 26, 1970 in New York City to commemorate the raid and standoff at the Stonewall Inn between LGBTQ youth and police, according to PBS' American Experience documentary. The Stonewall Rebellion happened on June 28, 1969, the day, according to GLAAD, and it marked the birth of the LGBTQ movement. It was a moment that defined and launched a coordinated effort to bring LGBTQ Americans (mostly gay Americans, at that time) out of the closets and into the daylight once and for all.
There was much to celebrate in the LGBTQ community this year, from the first anniversary of the Supreme Court ruling upholding same-sex marriage across the U.S. to President Obama's naming the Stonewall Inn as a national monument. But there have also been devastating losses — namely the 49 innocent people gunned down in an Orlando gay nightclub just a couple of weeks ago, marking the largest and deadliest mass shooting in American history.
And LGBTQ people around the world are still fighting for equality. Just this year, the pride parade was canceled in Istanbul, Turkey, although many still showed up to march. Unfortunately, they were greeted by police with rubber bullets and tear gas and two German lawmakers who participated were detained by police, the Telegraph reported.
But just as the LGBTQ community has done so many times before, they came out, marched, waved, laughed, danced, and celebrated who they are and who they love amidst the cheers and smiles of a world that — thanks to the tireless efforts of LGBTQ activists across the globe — is slowly becoming more willing to accept them.
Pride month continues throughout the month of June, so check out an event in your area while you can.
San Francisco, California
New York City
Houston, Texas
London, England
Louisville, Kentucky
Portland, Oregon
Chicago, Illinois
Warsaw, Poland
Seattle, Washington
Santa Fe, New Mexico
Austin, Texas
Dublin, Ireland
Istanbul, Turkey
Louisville, Kentucky
Columbus, Ohio
Minneapolis-Saint Paul, Minnesota
New Orleans, Louisiana
In many places around the world, LGBTQ people came together and made it clear that they will not stop being themselves out of fear or as the result of hate. Love will win.