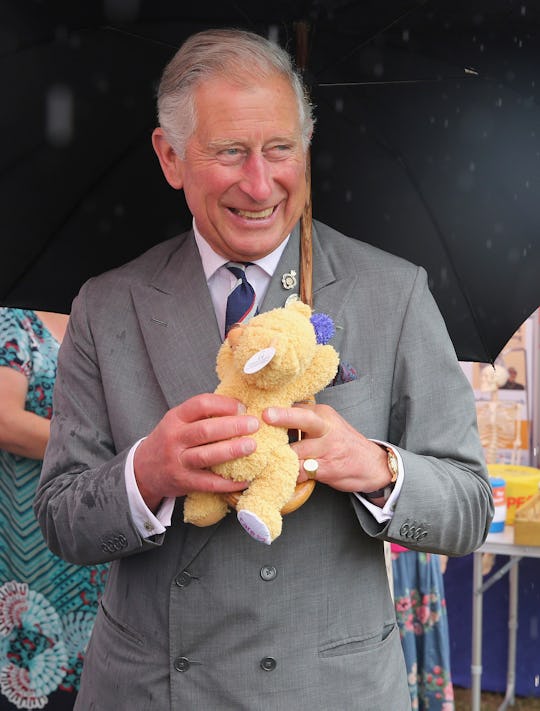 Chris Jackson/Chris Jackson Collection/Getty Images
Sweet Photos Of Prince Charles With His Grandkids In Honor Of His 70th Birthday
Grandparenthood is an exciting time of life. Finally, you get to enjoy the love and company of your children's children without having to, you know, also endure long nights of sleeplessness and the general stress that comes with trying to mentor kids into functioning adulthood. Be that as it is, it's abundantly clear that in the royal family, grandpa is king (in more ways that one). That's why these photos of Prince Charles with his grandkids are such an important, sweet reminder of the bond the family shares.
Though the royal family is notably disciplined when it comes to the aspects of their private life they share with the public, Prince Charles — who turns 70 today! — did speak out back in 2013, when Prince William and Kate Middleton welcomed Prince George, his' first grandchild. "Both my wife and I are overjoyed at the arrival of my first grandchild," Prince Charles said at the time, according to The Mirror.
He continued, "It is an incredibly special moment for William and Catherine and we are so thrilled for them on the birth of their baby boy... Grandparenthood is a unique moment in anyone's life, as countless kind people have told me in recent months, so I am enormously proud and happy to be a grandfather for the first time and we are eagerly looking forward to seeing the baby in the near future."
With two more kids to boot, yet another royal baby on the way come next spring, and the future King's 70th birthday today (Nov. 14) there's never been a better time to gush over some of the best family photos so far.
The Royal Family's Portrait To Celebrate Prince Charles Turning 70
The royal family released some adorable photos of Prince Charles with his grandkids: 5-year-old Prince George on his lap, 3-year-old Princess Charlotte giggling with Duchess Camilla, and baby Prince Louis sitting comfortably in Kate Middleton's arms.
At Prince Louis' Christening
The family gathered for an official portrait as Prince William and Middleton christened their third child, Prince Louis, earlier this year.
All In The Family
Though Prince Charles is undoubtedly excited to have grandkids in the family, MSN reported that when news of Duchess Kate's third pregnancy broke, he said: "[Camila and I] are both so pleased at the news. It is a great joy to have another grandchild, the only trouble is I don't know how I am going to keep up with them."
Three Generations
Prince Charles likes to bond with his grandkids by bringing them outdoors. The BBC reported that he actually encourages Prince George to garden. According to the news outlet, he said in April 2016:
The most important thing is I got him planting a tree or two here, so we planted it together and shovelled in the earth. That's the way, I think, when you are very small, and then each time they come you say, "Do you see how much the tree has grown, or whatever?" and you hope that they take an interest.
A Hidden Frame
Earlier this month, Prince Charles made headlines for sneaking in a super subtle family photo into a video about his visit to West Africa. If you look closely, Harper's Bazaar reported that you can actually see a framed photo of Prince Charles with his grandkids in one of the shots.
Bonding Together
Prince Charles has been seen not only playing with his own grandkids, but also his wife, Camila's.
Totally In Love
In an interview that Prince Charles did for a new BBC documentary about the royals called Prince, Son & Heir, PopSugar reported that he talks extensively not only about his role in the government, but his favorite job of all: being a grandpa. In fact, he goes so far as to say he's "smitten" with the kids, and that he's so happy to be a part of their lives.
It's clear that, like any grandparent, Prince Charles is totally in love with his kid's kids. With yet another royal joining the crew next spring, let's hope this is just the beginning of the adorable family photos.