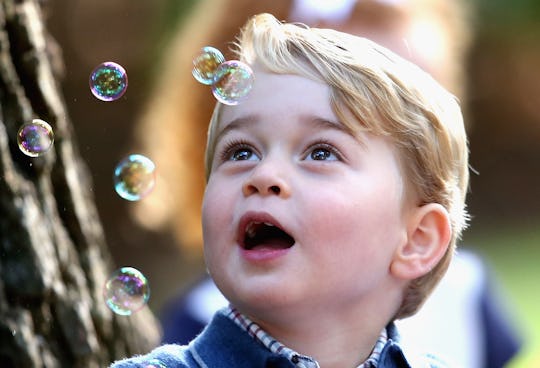 Chris Jackson/Getty Images Entertainment/Getty Images
Happy 5th Birthday, Prince George! Here's A Sweet Look Back At Photos Of Him Over The Years
It seems like just three months ago that Catherine, Duchess of Cambridge gave birth to Prince George and debuted him to the world on the steps of the Lindo Wing of St Mary's Hospital. Oh wait, hold on a sec... sorry, that was Prince Louis. That happened to Prince George a whopping five years ago to the day. So in honor of the future king turning 5 years old today, now seems like the perfect time to reminisce over these adorable photos of Prince George over the years.
Prince George was born to Duchess Kate and Prince William, Duke of Cambridge on July 22, 2013. The moment he was born, he knocked Prince Harry down a step in the royal line of succession, becoming the third in line for the British throne. Basically, it's almost a guarantee that he's going to be king someday, though it may be way in the future, so photographers and reporters were over-the-moon excited to welcome him into the world five years ago.
Within hours of giving birth, the proud new parents showed him off to the press on the steps of the Lindo Wing of St Mary's Hospital, and they brought him home shortly after. It was clear from day one that Prince George royally adorable.
Around three months later, on Oct. 23, 2013, Prince George was christened at St. James's Palace in Westminster, as CNN reported. He was the first royal baby to wear a new christening gown, designed to replicate the one that every royal before him wore at their christenings since Queen Victoria's eldest child, Victoria, Princess Royal was christened in 1841, USA Today reported.
In April 2014, Prince George and his parents embarked on a 10-day royal tour of New Zealand and Australia, as The Guardian reported. At just 9 months old, Prince George was already making A+ facial expressions.
In December 2014, at 16 months old, Prince George posed in an official Christmas portrait, The Telegraph reported. I mean, just LOOK at those cheeks!
His baby sister, Princess Charlotte, was born on May 2, 2015, according to Biography.com. Prince William took Prince George to meet her at the hospital the day she was born, and at just 22 months old, he had already perfected the royal wave, and he showed it off to nearby photographers.
Just a few weeks after Princess Charlotte's birth, Prince George was taking on big brother duties. He looks older already!
Princess Charlotte was christened a little more than two months after she was born, on July 5, 2015, Biography.com noted. Prince George stole the show at the christening with his utterly adorable ensemble.
By December 2016, Prince George had really developed into the face everyone knows and loves today. Around Christmas, he was spotted sucking on a candy cane in a rather smart peacoat, according to Glamour.
In July 2017, Prince George and Princess Charlotte joined their mom and dad on an official royal tour of Poland and Germany — color coordinating outfits and all.
Days after their trip, Prince George turned 4. THAT SMILE!
In September 2017, Prince George made many headlines for having his first day of school. He totally rocks his Thomas's Battersea uniform, am I right?
When Prince Louis was born on April 23, 2018, Prince George and Princess Charlotte both came to the hospital to meet their new baby brother — and it immediately became clear that Princess Charlotte is a much bigger fan of the spotlight than Prince George.
At the May 2018 royal wedding between Prince Harry and Meghan, Duke and Duchess of Sussex, Prince George fit right in with his dad and Uncle Harry. The almost-5-year-old totally pulled off the Severus Snape-esque ensemble he had to wear.
And at Prince Louis' christening in July 2018, Prince George tolerated yet another matching outfit moment with his family.
And that brings us to today, Prince George's 5th birthday. Here's hoping the little prince has a great day — and that the royal family releases a new, color-coordinated family photo for the occasion.