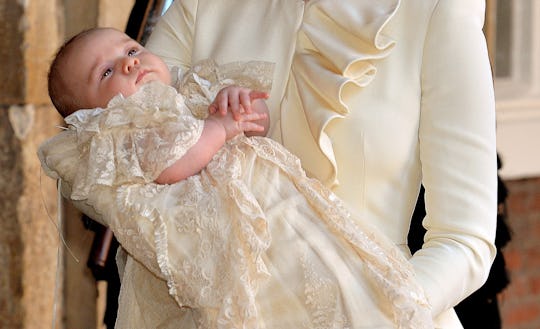 WPA Pool/Getty Images Entertainment/Getty Images
A Look Back At The Best Photos Of Prince George & Princess Charlotte's Christenings
From the royal birth of Prince Louis to the royal wedding between Harry and Meghan, Duke and Duchess of Sussex, the royals have been allll over the news lately. But if you've been secretly hoping for even more royal family milestones, look no further than Prince Louis' christening, which is just a few weeks away. And in honor of the upcoming event, now seems like the perfect time to look back on photos of Prince George and Princess Charlotte's christenings.
A christening is a ceremony in which a baby is baptized with water, marking the beginning of their journey as a Christian, according to the Church of England's official christening website. Additionally, parents typically name their baby's godparents at a christening.
The monarch of England is always the supreme governor of the Church of England, meaning Queen Elizabeth II presently holds that position. However when Prince George becomes king, he will be the church's supreme governor, so it makes sense that his parents, Prince William and Catherine, Duke and Duchess of Cambridge, followed the church's christening traditions for their little future king.
Prince George was born was on July 22, 2013, according to Biography.com. A royal baby is traditionally christened two or three months after they are born, according to The Sun, and Prince George had his christening just in time. He was christened on Oct. 23, one day after he turned 3 months old, at St. James's Palace in Westminster, CNN reported at the time.
For his christening, Prince George wore a lace and satin christening gown that was commissioned by the queen and designed to replicate the one Queen Victoria's eldest child, Victoria, Princess Royal, wore at her own christening in 1841, USA Today reported. Every royal baby since Victoria, Princess Royal, wore her original gown until 2008, when the gown was deemed to fragile to be worn any further.
And even though the christening of a future king sounds like a huge production, William and Kate opted for a private, intimate ceremony, with just 22 guests — all of whom were family — in attendance, the BBC reported at the time.
Keeping with tradition, the couple named their son's godparents at the ceremony: their friends Oliver Baker, Emilia Jardine-Paterson, Earl Grosvenor, Jamie Lowther-Pinkerton, Julia Samuel, and William van Cutsem, and William's cousin Zara Tindall. The Church of England's christening website says that every baby should have at least three godparents (two of the same sex as your child and at least one of the opposite sex as your child), but considering how popular Will and Kate are, it's no surprise that they rounded that number up to seven.
And since Prince George's christening was private, the only footage from the event was taken outside, when Kate and William presented Prince George to his great-grandparents.
Evidently, Prince George had a great time at his own christening, because when Princess Charlotte was christened two years later, he managed to steal the spotlight. Princess Charlotte was born on May 2, 2015, according to Biography.com. She was christened just over two months later, on July 5, 2015, at the church of St. Mary Magdalene in Sandringham, the Telegraph reported at the time. Will and Kate opted for a private ceremony with close family and friends yet again. But luckily for fans, cameras were once again outside to capture the family's journey into the church, including a moment when Prince William comforted Prince George during a temper tantrum. Evidently, the young prince did not realize until that moment that he was going to have to start sharing the spotlight.
Other than that, all the photos from Princess Charlotte's christening are lovely. Look at that gorgeous family of four!
If you're wondering what Princess Charlotte wore, her outfit may look familiar. It's the exact same gown Prince George wore at his christening, meaning it's very likely Prince Louis will wear the garment at his christening next month as well.
At the ceremony, Kate and William appointed five godparents for Princess Charlotte: Catherine's cousin Adam Middleton, William's cousin Lady Laura Fellowes, William's friend Thomas van Straubenzee, William's friend James Meade, and Kate's friend Sophie Carter, the BBC reported.
The royal family is very much rooted in tradition. And even though the younger members of the family tend to break those traditions sometimes, it's clear that they like to keep their christenings very traditional. It will be exciting to see how William and Kate choose to celebrate Prince Louis' christening, coming up on July 9.