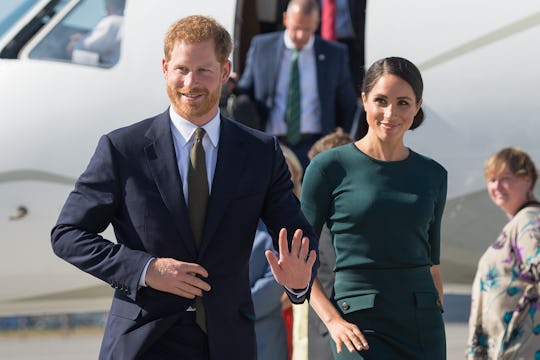 WPA Pool/Getty Images Entertainment/Getty Images
Harry & Meghan Made Their First International Royal Appearance Since Tying The Knot — PHOTOS
It's hard to believe that just two months ago, Prince Harry and Meghan Markle tied the knot. Since then, the couple has been all business. In the months since getting married, the couple has jumped right into their royal duties and on Tuesday, the couple made their first official work trip out of their country to Ireland. And photos of Prince Harry and Meghan Markle's Ireland tour will make you wish you were traveling with them.
Markle and Prince Harry are going to have to get used to hopping in and out of planes during their marriage — they're going to make dozens of royal appearances in different places each and every year. But, Tuesday marked a very special occasion, as the couple made their first airport arrival as a wedded couple and it marked their first international trip together (with the exception of their honeymoon, of course), according to Newsweek.
In Ireland, the couple will immerse themselves in the "culture and history" of the city of Dublin, according to People, where they will enjoy learning about sports and arts in the city. But during this two-day trip, royal watchers will get to see more of the newlyweds (and get to see their great outfits), which is fantastic. The photos from their Ireland trip thus far really do speak for themselves: the couple looks so great together and could not be any more in love.
Their Arrival
Markle could not have looked any more stunning in her green Givenchy dress — which, as People noted, was a nod to Ireland's favorite color — and structured tote while Prince Harry's olive green tie was a nice pop of color to his outfit.
Even though some of their official work trips might seem like a vacation, given all of the super cool places they get to travel, their outfits upon arrival showed that they were ready for their first official business trip. If only it was that easy to look as polished as Markle.
This isn't the couple's first time in Ireland — earlier this year, in March, the couple made a surprise visit to Belfast, Ireland, according to People. And in 2013, long before she met Prince Harry, Markle visited Dublin to accept the Bram Stroker Entertainment Award from Trinity College, according to InStyle. But she did more than just accept an award there — she learned how to pour a perfect pint of Guinness for the Irish entertainment show Xposé, according to InStyle, and even snuck in a few sips of her beer, too. While she was there for work in 2013, too, it is a far cry from the work that she does now.
But in the photos from both of her visits, Markle looks equally as happy to be in Ireland.
Business, As Usual
After the couple arrived in Dublin and met with Ireland's prime minister, Taoiseach Leo Varadkar, according to Kensington Palace, the couple met with people across Ireland that are working to shape the future of their country. And it was during this evening appearance where Prince Harry delivered a speech, according to Vanity Fair, where he even addressed his wife and the significance of their trip. Prince Harry said, according to Vanity Fair:
We're so pleased to be here, for our first official international visit together as a married couple, and we hope it will be the first of many. As each other's closest neighbors, the United Kingdom and Ireland's relationship is unique; our shared history is long and complex. There have of course been challenging, and at times, tragic, periods of that relationship... On this visit we will also celebrate just how much unites us.
Although Prince Harry and Markle have only made a few appearances during their first day in Ireland, they still have a few more to go (which means a few more outfit changes, too), according to The Telegraph. Thank goodness for that.