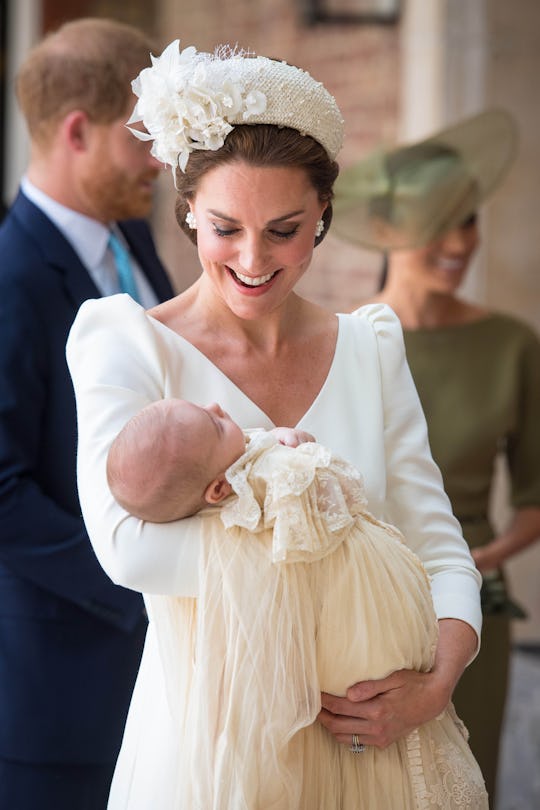 WPA Pool/Getty Images Entertainment/Getty Images
Photos Of Prince Louis' Christening Show The New Royal Family-Of-Five
People across the world watched excitedly back in April as the Duke and Duchess of Cambridge emerged from the doors of the Lindo Wing at St. Mary's Hospital with their newborn son, Prince Louis, but though the couple has since been spotted out with their older children a few times (most notably at the wedding of Prince Harry and Meghan Markle in May), the infant prince had remained entirely out of public view. On Monday, July 9, though, the couple brought all three of their children to St. James' Palace, according to People, and it turns out that photos of Prince Louis' christening are just about as perfect as you'd expect them to be.
The royals arrived at the Chapel Royal Monday afternoon with their 11-week-old son, Prince Louis, as well as their 5-year-old son, Prince George, and their 4-year-old daughter, Princess Charlotte. As usual, they all looked picture perfect: as she did at the christenings of her older children, the Duchess of Cambridge wore a cream dress and a matching headpiece for the event, and arrived carrying Prince Louis, who wore a handmade replica of the Royal Christening Robe, made by the Queen's dressmaker, Angela Kelly. Prince George, in his signature dress shorts, and Princess Charlotte, wearing a blue floral dress, walked in alongside them, both holding the hands of their father, Prince William.
At first glance, the photos from Prince Louis' christening appear much the same as those taken at Prince George's in 2013: both events took place at the Chapel Royal, and were attended by Prince Charles and Camilla, the Duchess of Cornwall, along with the Middleton Family. But this time, there were some important differences.
For one, the duke and duchess certainly have their hands full now: Prince George and Princess Charlotte look quite grown up at Prince Louis' christening, yet the last time the family held a christening at the Chapel Royal, William and Catherine were parents only to three-month-old Prince George (Princess Charlotte was christened at St. Mary Magdalene church near the Queen's Sandringham estate, according to The Sun).
And, now, of course, there are some new plus-ones. Prince Harry attended the event with his wife, Meghan, the Duchess of Sussex, who was dressed in olive green, while Pippa Middleton was joined by her husband, James Matthews, and the rest of the Middleton family. But it looks like it won't actually be too much longer until the next Middleton family christening: Pippa is currently pregnant with her first child, due later this year.
Also making their arrival at the christening? Prince Louis' six godparents, whose names were officially announced by Kensington Palace Monday morning. Among them? Harry Aubrey-Fletcher, one of Prince William's classmates at Eton College; Catherine's cousin, Lucy Middleton, and her Marlborough College friend Hannah Carter; London nightclub owner, Guy Pelley, a close friend of the couple; Lady Laura Meade, who entered the chapel with Kate's brother, James Middleton; and Nicholas van Cutsem, a long-time friend of both Prince William and Prince Harry.
The star of the show though, of course, was the infant prince, who seemed to be doing his parents a major favor by arriving to his own christening fast asleep:
It looks like the young prince woke up following the ceremony though, which is just as well — according to Kensington Palace, the Duke and Duchess were set to host a tea for their guests at Clarence House following the christening, featuring a "christening cake" that had actually been a tier of their own wedding fruitcake from 2011.
The only two royal VIPs who seemed to have missed out on Prince Louis' big day? Queen Elizabeth II and her husband, the Duke of Edinburgh, who had previously confirmed they wouldn't be attending due to scheduling conflicts. That may be a bit unfortunately for the young prince, who, unlike his siblings, won't have the chance to have his great-grandparents in his official christening portrait, which should be released publicly soon. But otherwise, it seems that Prince Louis' second public appearance went very smoothly — and naturally, he looked just as adorable in his gown as his big brother and sister did before him.