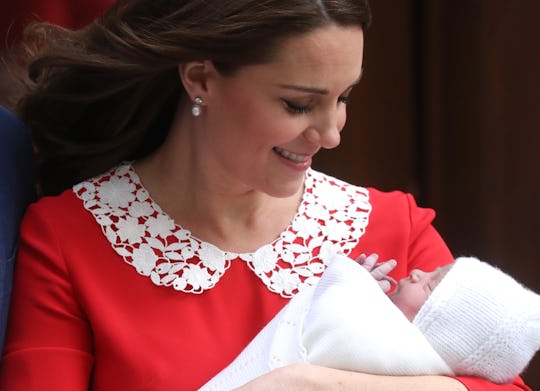 Chris Jackson/Getty Images Entertainment/Getty Images
Photos Of Prince Louis Compared To Photos Of Young Kate Middleton Are Way Too Cute
The arrival of Prince Louis, the Duke and Duchess of Cambridge's third child, was basically a worldwide event. Crowds waited outside the Lindo Wing of St. Mary's Hospital to catch the first glimpse of the newborn, held by his incredibly poised and polished mother, who seemed to defy nature in her heels and dress. Now, the 9-day-old prince is settled in at home at Kensington Palace, and though it may be a while until we see him again, photos of Prince Louis compared to photos of young Kate Middleton may give some insight into what the young royal may look like as he grows.
Much like the births of his brother, Prince George, and sister, Princess Charlotte, the Duke and Duchess remained in hospital only briefly after the delivery of Prince Louis, which meant it wasn't long before they showed their infant off to the world. And though that must have honestly been excruciating — Middleton had only given birth hours before, after all — it at least allowed them to get that royal ritual out of the way so that they could actually go home and rest. Like both times before, the Duke and Duchess opted to wrap Prince Louis in a white shawl by GH Hurt & Son for his public debut, according to Hello!, and likely for a sentimental reason: GH Hurt & Son also made the blanket Prince William was wrapped up in when he was carried out of the hospital by Princess Diana in 1982.
Like his sister before him, Prince Louis also wore a white baby bonnet (also by GH Hurt & son), and looked totally sweet:
But unfortunately, as much as it might seem natural to want to make comparisons to his siblings and parents, the truth is that, well, in his first photos, Prince Louis mostly just looked like a newborn baby:
In other words, it's impossible to tell from the hospital photos which of his parents he actually resembles most closely. Throwback photos of his mom, however, suggest that if he takes after her, he'll probably be pretty darn cute. (Then again, look at his siblings. He'll be cute either way.)
Early photos of Middleton don't give a ton of information away, though if anything, it looks like Princess Charlotte may have been the one who resembled her mom most as a newborn.
About a month after both Prince George and Princess Charlotte's births, the Duke and Duchess released some new family photos, according to People, but it's reasonable to think though that the next time we'll see Prince Louis in person will likely be at his christening (that is, of course, if he doesn't make an appearance at Prince Harry and Meghan Markle's wedding later this month). On that day, it's likely he'll be wearing the same Honiton lace gown his siblings wore, according to The Daily Mail, and at that point, it will also be easier to see if he looks similar to the way his own mother looked at her christening.
From the look of this old photo of Middleton though, it seems that young Prince George actually resembled her quite a bit as a baby:
While Princess Charlotte definitely seems to be taking after her mother now that she's a little bit older:
I mean, seriously, how adorable was the Duchess as a kid?
Of course, it's still anybody's guess as to who little Prince Louis will turn out looking like, and it could still be a while before the public has another chance to speculate. But given that he's the couple's third baby, it's pretty clear as this point that they make seriously cute kids. So while a new photo of Prince Louis would be totally awesome, a new photo of all three young royals would be even better.