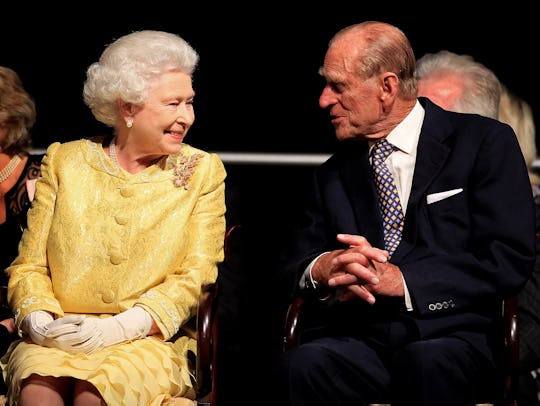 Chris Jackson/Getty Images Entertainment/Getty Images
Photos Of Prince Philip & The Queen
Following an emergency meeting of the Royal Household at London's Buckingham Palace in the wee hours of Thursday morning, the Palace has announced that Prince Philip, the husband of Queen Elizabeth II, will retire from official palace duties beginning this fall. It's a profound, though not entirely unexpected announcement, given the fact that Prince Philip will turn 96 years old next month. On November 20, the Queen and Prince Philip will celebrate their 70th wedding anniversary. Photos of Prince Philip and the Queen throughout the years show seven decades of a truly timeless royal romance.
Prince Philip and Queen Elizabeth were engaged in secret for almost a year before their engagement was publicly announced. They were married when the Queen was 21 years old, but a love letter from the Queen that was auctioned in September of last year revealed that their romance may have begun eight years earlier, when Queen Elizabeth was just 13 years old. Prince Philip was 18 at the time. In her letter, she wrote of the first time she remembered meeting Prince Philip, just after he had joined the Royal Navy. With the outbreak of World War II, the Queen only saw Philip twice over the next three years after they first met in 1939, according to her letter.
Here's a look at Prince Philip and Queen Elizabeth's royal romance through the years.
Their Royal Wedding
When you're the Queen and Prince of England, of course you're going to look radiant on your wedding day. But this candid black and white photo from Prince Philip and Queen Elizabeth's wedding captures so much more than just stunning royal fashions: There's a true look of excitement and love in their eyes, and the effect is just too charming.
Young Love
Hey, remember that time Prince Philip and Queen Elizabeth cut a rug at an Ottawa, Canada hoedown in 1951? There is so much going on in this photo — and all of it is amazing. It's so obvious from this photo that at just four years into their young marriage, they were having a grand time of it.
This is another classic photo of the young Queen and her Prince. I'm getting all mushy just seeing the two of them so clearly head over heels with each other.
A Growing Family
The Queen and Prince Philip have four children. Prince Charles, the current heir to the British throne, was born in 1948, just days before their first wedding anniversary. Princess Anne was born two years later, followed by Prince Andrew in 1960 and Prince Edward in 1964.
The Jubilee Years
In February, the Queen made history with her Sapphire Jubilee, becoming the first British monarch to reign for 65 years — with Prince Philip at her side for all of them. As these photos throughout the Queen's modern reign show, they might be a whole lot older, but their love is one for the history books.