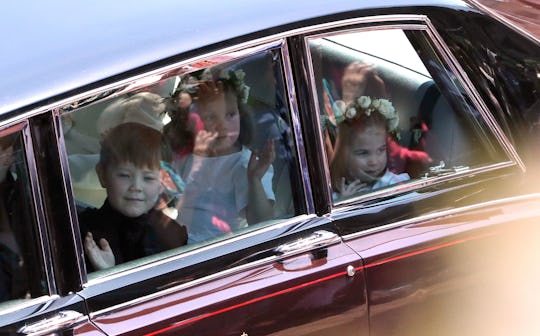 WPA Pool/Getty Images Entertainment/Getty Images
Princess Charlotte Was Too Cute At The Royal Wedding
Meghan Markle looks great, lovely, but can we talk about Princess Charlotte? Photos of Princess Charlotte at the royal wedding show that the young girl is already more than comfortable making high-profile public appearances, and it's hard to imagine any 3-year-old who could possibly be better suited to the royal role.
Though her parents, the Duke and Duchess of Cambridge, understandably choose to keep her life as private as they can, according to The Express, Princess Charlotte's arrival at the Lindo Wing at St. Mary's Hospital after her younger brother's birth in April pretty much confirmed that she's got her princess "smile and wave" completely perfected already. And honestly? Given that the young royal was so easily able to charm the massive crowd full photographers and royal fans then, it's really no surprise that she also seems to be handling her bridesmaid duties with total ease.
The decision to have Princess Charlotte serve as one of Markle's bridesmaids may have seemed a bit strange to some, but it actually makes a lot of sense for a royal wedding.
That's because while American brides most often choose their adult BFFs to be in their bridal parties, Markle and Prince Harry instead decided to follow the British custom of choosing children to serve as bridesmaids and page boys. And as stressful as that might seem given how thoroughly unpredictable young kids can be (especially in front of large crowds!), it has plenty of royal precedence.
At their 2011 wedding, Prince William and Kate Middleton had four young bridesmaids, according to ABC News, while at her 1981 wedding to Prince Charles, according to The Telegraph, Princess Diana had five. Yet Markle upped the ante: on Wednesday Kensington Palace released the names of the couple's 10-person bridal party, revealing that Markle chose six bridesmaids, including Princess Charlotte; Ivy Mulroney, the daughter of Markle's friend and stylist Jessica Mulroney; as well as Remi and Rylan Litt, the two young daughters of her friend, Benita Litt.
Unsurprisingly, the arrival of the too-cute-for-words bridal party (which also included Prince George as a page boy) was a huge hit among the crowd. And while that must have been quite the moment for the other little ones, Princess Charlotte was totally ready. And Twitter was definitely here for it:
Then again, in addition to her regal lineage (and being the daughter of the impossibly poised and lovely Duchess of Cambridge), Princess Charlotte has also had practice doing this before. She and Prince George were part of the bridal party when their aunt, Pippa Middleton, wed James Matthews in 2017, according to Hello!, and she looked completely adorable.
Then again, that's not the only opportunity Princess Charlotte has had to practice being a total charmer. Remember when she freaked out over the balloons at a children's party?
Or when she made all of Canada fall in love with her when she waved at them during her first overseas tour:
And then there was perhaps the best moment of all, her tiny little royal curtsey:
In other words? Princess Charlotte may only be 3 years old, but she definitely had her royal wedding duties down. And while Markle was still the star of the show, Charlotte, as usual, still managed to steal everyone's heart.