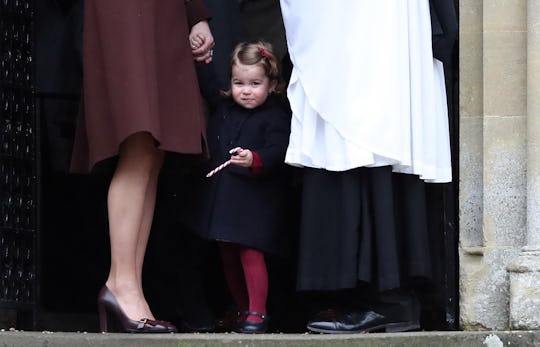 WPA Pool/Getty Images News/Getty Images
Photos Of Princess Charlotte Show How Fast Time Flies
It's hard to believe that it's already been two years since the Duke and Duchess of Cambridge welcomed their second child into the world, but photos of Princess Charlotte for her second birthday show that the youngest royal definitely isn't a baby anymore. In what has become a bit of tradition in the past years, Kensington Palace released an official photo Monday in honor of the princess's birthday on May 2, according to USA Today, and unsurprisingly, it is absolutely the cutest. The newest snap shows that the little girl has grown a fair bit since she was last seen with her parents at Christmas, but it's only one of many adorable photos of the little girl we've seen over the years.
In the birthday photo, the royal toddler can be seen sitting outdoors wearing a sweet yellow and blue cardigan, with her chestnut brown hair secured by a navy blue bow. As with similar photos previously released of her brother, Charlotte's birthday pics were taken by her mother, Catherine, the Duchess of Cambridge, and were snapped in April at the family's country home, Amner Hall, in Norfolk. While protective of their children's privacy, the Duke and Duchess have taken to sharing personal photos of their children from time to time, and on Monday, Kensington Palace said that the couple was "delighted to share" the most recent photo of their daughter, and that they hoped "that everyone enjoys this photograph of Princess Charlotte as much as they do."
According to People, Princess Charlotte's birthday will officially be celebrated privately with a family party at home, but the timing of the princess's birth almost made her big day an unofficial national holiday: had she been born a day earlier, the young princess would have turned a year old on May Day, a U.K. bank holiday. Yet the holiday didn't dampen public interest in her arrival in 2015 — as with her brother, crowds of photographers, reporters and royal watchers camped outside the Lindo Wing at St. Mary's Hospital in London to await her arrival, and specifically her parents' first appearance on the hospital steps as they left to take her home.
Since then, the world has seen glimpses of the growing princess, both in photos shared by the family as well as at a handful of public events. As a baby, Princess Charlotte made her first post-birth public appearance at her Christening in July 2015, according to The Telegraph, and the Duke and Duchess also released a too-cute set of photos of the baby girl with her brother not long after her birth.
The couple then released a new set of photos of the princess when she was 6 months old:
Ahead of the princess's first birthday, the Duke and Duchess shared a few sweet snaps from their home in Anmer Hall:
Last September, Princess Charlotte joined her parents in Canada for her first ever royal tour, according to People:
But perhaps one the greatest photos of Princess Charlotte that's been shared since her birth? The royal portrait she appeared in with the Queen ahead of the monarch's 90th birthday, along with her brother and their royal cousins.
The good news for fans of the youngest royal? They likely won't have to wait long to see more adorable photos of the little girl. According to Hello!, Kensington Palace confirmed in April that both Princess Charlotte and Prince George will be involved in their aunt Pippa Middleton's wedding, set to take place later this month. And while it won't exactly be an event on the same scale as the Duke and Duchess's wedding in 2011, there's no doubt the Prince and Princess will be feeling the spotlight — the palace said that Prince George will act as a page boy, while Princess Charlotte will be one of her aunt's bridesmaids.
It might not always be easy for Princess Charlotte as she grows, as she will inevitably be someone who will be raised in the public eye. But at the same time, it seems as though her parents are being careful to share updates on her life with the world while also making sure they maintain her privacy. That's obviously so important, but honestly? You can't help but admit that getting to catch a glimpse of the adorable young royals as they grow is always so enjoyable.