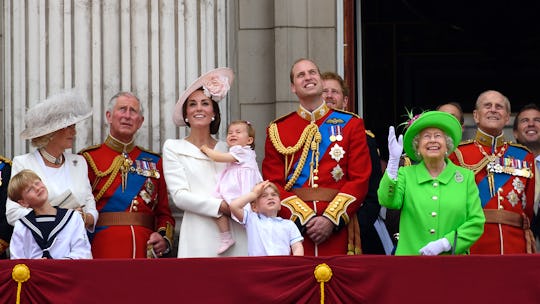 Ben A. Pruchnie/Getty Images Entertainment/Getty Images
Photos Of Princess Charlotte Vs. Young Queen Elizabeth Prove The Royal Family Genes Are Strong
The royal wedding pretty much confirmed that Princess Charlotte has stolen the hearts of people all over the world. From her sweet wave that she made at the royal wedding to her adorable and confident demeanor, it is clear that Princess Charlotte was fit for her title since birth, much like her great grandmother, the Queen of the United Kingdom (aka Queen Elizabeth II). And when you compare photos of Princess Charlotte with photos of Queen Elizabeth II, it only proves that the genes in the royal family are incredibly strong.
Princess Charlotte is showing that she has quite a lot of personality, even at her young age of three. At the royal wedding, Princess Charlotte showed off that she could confidently present herself at one of the biggest events of the year and even reportedly kept her other bridesmaids in line, according to TIME. That sounds like those are leadership skills she could have inherited from someone in her family who is the ultimate leader (ahem, her great grandmother).
Princess Charlotte is already showing that she has things in common with her grandmother (who she reportedly calls Gan Gan, according to Business Insider), including their looks. Although Princess Charlotte and Queen Elizabeth grew up in two completely separate times (which means there are less childhood photos of the queen), you can already see the striking similarities between the two.
Princess Charlotte and the Queen's childhoods could not be any more different. When the Queen was born in 1926, technology (and the obsession with celebrities) were no where near at the same level that they are today. I mean, during Princess Charlotte's birth in May 2015, photographers patiently sat outside of the hospital, waiting for her mom and dad to bring her out to the world. Finally, one month later, Kensington Palace released the first photo of Princess Charlotte where people finally got to see her face:
When Princess Charlotte was born, people were well aware that her father was second in line to inherit the royal throne, which made her fourth in line, after her brother, Prince George. Thus, people were pretty excited about her birth.
But when Queen Elizabeth was born, people had no idea that she would even be the Queen of the United Kingdom one day. When her grandfather, King George, died in 1936, the title was bestowed to her uncle, Edward, who abdicated the throne, according to Mentalfloss. This meant that the queen's father, King George, would take the title and make her next in line to inherit the throne (which she obviously did).
In Queen Elizabeth's baby photo you can see how similar she looks to Princess Charlotte. They have the same forehead and nose and practically look like twins.
But, because times were so different back then, there aren't too many photos documenting Queen Elizabeth's childhood like there are of Princess Charlotte. Because of this, making a comparison between the Queen and her great granddaughter isn't the easiest. But it seems like cameras are always there to capture photos of Princess Charlotte when makes her official appearances while traveling with her parents, like when she traveled to Europe with her family this summer, for example:
While photos of the Queen at Princess Charlotte's age might be a little rare, photos of the queen in her youth can show what Princess Charlotte might look like when she gets older. After all, if their baby photos are so similar, you can't help but wonder how Princess Charlotte might take after her great grandmother when she gets older.
Queen Elizabeth was reportedly very shy to outside circles when she was a child, according to the Telegraph, but opened up when she got around her family. Based on how Princess Charlotte acts in front of the camera now, that isn't likely the case for her.
Seriously, they share the same face shape and everything.
Only time will tell how much Princess Charlotte takes after the Queen. But given how similarly they look now, it's clear that those royal family genes are strong.