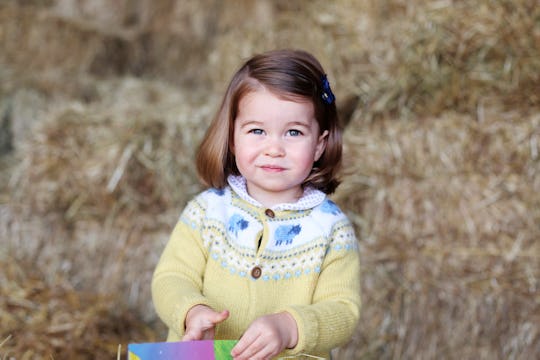 Handout/Getty Images Entertainment/Getty Images
Photos Of Princess Charlotte's First Year Show Just How Much The Little Royal Has Grown
This spring is a very exciting time in the royal family. Late last month, Prince William and wife, Kate Middleton, welcomed their third child, a son named Prince Louis, in addition to celebrating their seventh wedding anniversary a week later. But May will bring even happier times to the family. Later this month, Prince Harry will marry his fiancé, Meghan Markle and today, May 2, Princess Charlotte celebrated her third birthday. Needless to say, there's a lot going on. Looking back at photos of Princess Charlotte's first year show just how far the royal kiddo has grown and what to expect with the newest royal's first year of milestones.
Just three years ago, Middleton and Prince William stood on the steps of the Lindo Wing at St. Mary's Hospital in London (much like they did just a few weeks ago) with their bundle of joy Princess Charlotte, joining her older brother, Prince George. In the years since then, she's grown so much in front of the world's eyes. From a little baby to a toddler to a little girl off to nursery school, Princess Charlotte is so cute and looks exactly like a combination of her mom and dad.
But the best part about Princess Charlotte being born in 2015 is that people have been able to watch her grow up. Looking at photos from her first year of life is a great way to reminisce on those exact moments.
Hours After She Was Born
Princess Charlotte's birth was so exciting for a lot of royal watchers — after the birth of three princes before her, people were excited for the royal family to finally welcome a baby girl. And royal watchers weren't the only people super excited — Prince William and Middleton were both delighted to have a little girl in their family. When Prince William left the hospital to pick up his son to meet their new daughter, Prince William reportedly said that the couple was "very happy," according to the BBC.
Her First Royal Portrait
Weeks after giving birth, Middleton took the first official photos (taken in mid-May) of her son and daughter, together, according to Kensington Palace. While Prince George might look a little wary of his younger sister, Princess Charlotte officially stole the hearts of millions with those snapshots.
Her Christening
Just two months after her birth, in early July, Princess Charlotte was christened in front of the queen (also known as her great-grandma) and other close friends and family members at St. Mary Magdalene Church, according to The Telegraph. This day marked a very special occasion in Princess Charlotte's life; according to The Telegraph, this was the first time that Prince William, Middleton, and their children stepped out in public as a family of four (and they looked super cute as a family doing that).
Halfway To 1
A few weeks after her half birthday, Kensington Palace released new photos of Princess Charlotte (the first official photographs of her sitting on her own), taken by Middleton at their home in Norfolk, according to Kensington Palace's Instagram. Both Middleton and Prince William had the sweetest message for fans in the Instagram caption. "The Duke and Duchess continue to receive warm messages about Princess Charlotte from all around the world and they hope that everyone enjoys these lovely photographs as much as they do," Kensington Palace captioned the photo.
Her First Christmas
Celebrating babies first holidays is always super exciting, especially since they really have no idea what they're in for. This is what makes Prince William and Middleton's first Christmas card photo as a family of four all the more sweet. Christmas that year was all the more special, according to E! News, especially for Prince George who "worked out" what Christmas was that year. Prince William told The Big Issue magazine that year, according to E! News: "I think Prince George will be especially bouncy this year because he's suddenly worked out what Christmas is all about...if I get any sleep on Christmas Eve it will be good."
Her First Big Family Vacation
In March, two months before she turned 1 year old, Princess Charlotte got her first taste at jet setting. This vacation to the French Alps, according to Kensington Palace's Instagram, marked the first time that Prince William and Middleton traveled with their kids as a family of four, and the first time that either Prince George or Princess Charlotte had played in the snow. Judging from the expressions on their faces, Princess Charlotte was pretty happy about it, while Prince George seemed a little indifferent.
Her First Birthday
Just before her first birthday, Kensington Palace released these photographs, taken by Middleton, to celebrate Princess Charlotte's first year of life. In these photographs, you can clearly see how much Princess Charlotte changed over the course of the 12 months of her first life and get glimpses of her super charming personality.
Happy Birthday to the little royal!
Check out Romper's new video series, Bearing The Motherload, where disagreeing parents from different sides of an issue sit down with a mediator and talk about how to support (and not judge) each other's parenting perspectives. New episodes air Mondays on Facebook.