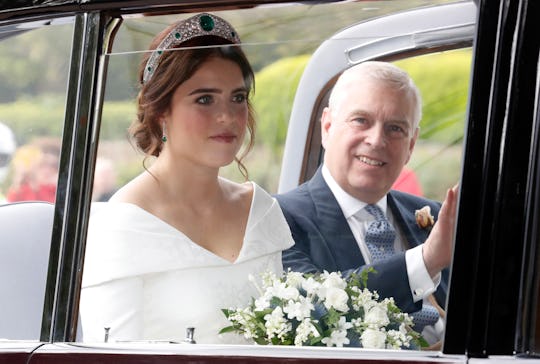 Chris Jackson/Getty Images Entertainment/Getty Images
Princess Eugenie's Wedding Dress Was So Perfectly Elegant & Unique — PHOTOS
It's definitely been a big year for the royals: in April, Prince William and Catherine, the Duchess of Cambridge welcomed their third child, Prince Louis, and one month later, Prince Harry tied the knot with Meghan Markle, now the Duchess of Sussex. But on Friday, the family returned to Windsor Castle for yet another celebration — Princess Eugenie's wedding to Jack Brooksbank. The princess travelled to St. George's Chapel by car, with her father, Prince Andrew, Duke of York, at her side, and she looked *so* beautiful. And photos of Princess Eugenie's wedding dress show that the royal bride opted for a gorgeous long-sleeved dress with a portrait neckline, designed by Peter Pilotto and Christopher De Vos.
Given all of the hoopla surrounding the year's first royal wedding, it must have been at least somewhat nerve-wracking for the 28-year-old princess to decide upon a dress, particularly as Markle's wedding look was total perfection. Making things even more difficult? Princess Eugenie hasn't always been lauded for her fashion choices in the past (she and her sister, Princess Beatrice, were straight up, and unfairly, skewered for the outfits they wore to Prince William's wedding to Kate Middleton in 2011). But on her wedding day? Well, she absolutely nailed it.
Her new husband may not actually be gaining a fancy royal title the way that Kate and Meghan did, but Princess Eugenie definitely didn't abandon her regal lineage on her wedding day: she completed her look with a tiara, lent to her by her grandmother, the Queen. Though some expected the princess to wear the same tiara her mother, Sarah, Duchess of York, wore on her own wedding day, it appears she actually chose the Grenville Emerald tiara — and accessorized with emerald drop earrings that were a gift from Brooksbank.
Like Meghan, Eugenie's dress also had special symbolic details. According to Buckingham Palace, the designers included a thistle in honor of Scotland, a shamrock in honor Ireland, the York Rose, and ivy meant to represent the couple's home, Ivy Cottage at Kensington Palace. But the dress' design was also significant for another very special reason: the princess specifically opted for a low-back dress in order to display the scars on her back from scoliosis surgery she had when she was 12 years old.
The surgery was certainly a significant event in the princess' life: according to The Express, Eugenie is now a patron of The Royal National Orthopaedic Hospital, where she had the corrective procedure, and she and Brooksbank even extended wedding invitations to the NHS surgeons who operated on her. It was a major operation — the royal had to have titanium rods placed in her back — and in an earlier interview ahead of her wedding, she explained that being involved with the hospital that corrected her spine was "a lovely way to honour the people who looked after [her] and a way of standing up for young people who also go through this."
In fact, though the details of her dress were a closely guarded secret, Eugenie did hint ahead of time that she wanted to make a statement with the design. She said, "I think you can change the way beauty is, and you can show people your scars and I think it's really special to stand up for that," according to The Express. And it looks like she did exactly that: though the relatively-low back might be a surprising choice for a royal bride, it was a powerful way for her to honor her health struggle, as well as to honor the medical team who operated on her. After all, as the Duchess of York noted ahead of the wedding, Eugenie was "walking up that aisle with a straight back because of them."
Other notable details of her wedding day look? Unlike Meghan and Kate before her, Eugenie actually opted out of wearing a veil with her dress, though her full-length train definitely wowed. She completed the look with satin peep-toe heels by Charlotte Olympia, according to Buckingham Palace, along with a bouquet consisting of "Lily of the Valley, Stephanotis pips, hints of baby blue thistles, white spray roses and trailing ivy," as well as sprigs of myrtle, which is a royal wedding tradition harking back to Queen Victoria.
Although it seems like choosing a wedding dress that will be viewed (and critiqued!) by the whole world would be incredibly difficult, Princess Eugenie actually said that she found it to be a pretty straightforward decision. In an interview earlier this year, the princess confirmed that she had indeed picked a British designer (both Meghan and Kate did the same on their wedding days), and that she "knew the designer, and the look" that she wanted as pretty much from the get-go, according to Harper's Bazaar. The magazine noted that the princess first met her future wedding dress designers at a royal event she hosted in 2007, and she's been spotted wearing Peter Piloto designs in the past.
Though the Duchess of Sussex certainly can't be an easy act to follow — particularly since her own wedding look was so effortlessly stylish — Princess Eugenie definitely seemed to have found a wedding dress that suited her perfectly, and made her look like, well, a princess. And for those who have been eagerly waiting to see Eugenie on her big day, she definitely did not disappoint.