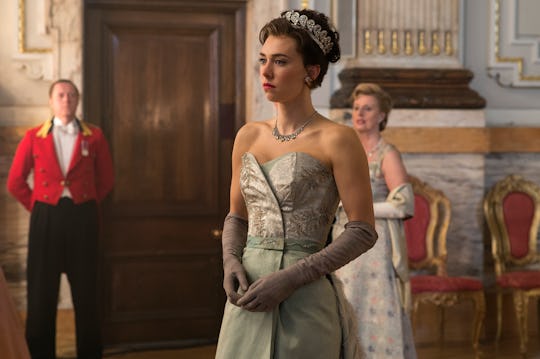 Alex Bailey/Netflix
Photos Of Princess Margaret Show What 'The Crown' Character Was Like IRL
Whenever a series is based on real people and their lives, it can be fun to compare the fictional take to the true story to see how everything stacks up. It's important for the major events to be depicted accurately, but the details have to feel true, too. Netflix's The Crown has been fairly successful in telling the story of the current royal family, and that's clear when you start comparing fact to fiction. For example, photos of Princess Margaret show what The Crown character was like in real life, and she doesn't look all too dissimilar from actress Vanessa Kirby, who portrays the iconic figure.
Princess Margaret can often act as a foil to Queen Elizabeth, though both sisters had their own problems to deal with thanks to the constraints of their birthright. Margaret didn't have to undertake the massive responsibility Elizabeth did when she ascended to the throne, but she also had to give up personal desires to stay in line with the beliefs of her very public family. She still got to be a little bit more rebellious, however: dressing up in glamorous clothes and going out, or hopping on the back of her boyfriend's motorcycle as she does in the trailer for The Crown Season 2. But was the real Margaret quite as glamorous as Kirby's interpretation?
Princess Margaret definitely seems to have been — pictures of her make that more than clear. In her luxurious jewels, complete with a tiara hefty enough to use as a weapon in a pinch, Margaret looked every inch the princess. While her outfits may have remained on the conservative side for England in the late '50s and early '60s (no mod minidresses for the royal family), she always looked stylish and striking.
Photos also capture how rarified her life was, because there's no shortage of images of Margaret captured alongside other rich and important figures. Margaret and her husband Antony Armstrong-Jones, Earl of Snowdon, visited the White House and were hosted by President Lyndon B. Johnson and his wife. Margaret also got to meet the Beatles at the very height of their fame in 1964.
Photography was a big part of Princess Margaret's life, and not just because she was famous enough to get her picture taken on the regular. Her husband Armstrong-Jones worked as a photographer before, during, and after their marriage; though he was born wealthy, he didn't have a title before marrying Margaret and had made a name for himself taking pictures. In some snaps of Margaret, Armstrong-Jones is beside her, but in others he's the one behind the camera.
In fact, Margaret and Armstrong-Jones hit it off in the first place because he was hired to take a portrait of her. They'd crossed paths before, but it was during the photoshoot that a connection sparked between the two.
Their wedding was very heavily photographed as well as filmed, making it the first royal wedding to air on television. These days, that's practically tradition, but Margaret was the one who set the trend. Viewers are sure to be treated to Margaret's wedding in Season 2 of The Crown, though hopefully the costume will look as good as the real dress she wore: a simple but elegant gown with that massive tiara once again perched on her perfect 1960s bouffant.
Pictures of Margaret and her sister Elizabeth also give curious fans a nice glimpse of the two women in a much less formal moment. It's nice to see the sisters looking adorably normal instead of stiff and posed.
While a dramatized series can never wholly replicate reality, as long as The Crown tries to stay faithful to the real people it depicts, it should continue to go well.
Check out Romper's new video series, Romper's Doula Diaries:
Watch full episodes of Romper's Doula Diaries on Facebook Watch.