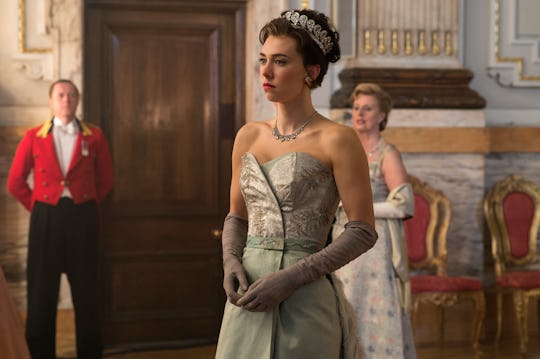 Alex Bailey/Netflix
These Photos Of Princess Margaret's Wedding Dress Are Stunning
The wedding of Princess Margaret was a spectacle that snagged the attention of millions. It was also the first in royal history to be broadcast on live TV, inspiring decades' worth of dedicated fans to tune in every time a royal bride put on a poofy skirt to walk down the aisle. And photos of Princess Margaret's wedding dress make it clear why it caused such a sensation: though relatively plain by the standards of the rich and famous, it was incredibly elegant. She was a Kate Middleton in the making.
Margaret married Antony Armstrong-Jones, a photographer soon to be named the Earl of Snowdon. Their marriage was a first for both, though Margaret had famously broken her engagement to the older Captain Peter Townsend when it looked like family and country wouldn't approve. Though Armstrong-Jones was without a title before the wedding, he was well-liked by her mother and sister — and getting the approval of two queens is no easy feat.
The wedding took place on May 6, 1960 at Westminster Abbey, and it was witnessed by millions. Thousands of people lined the street to gaze raptly at the princess' procession, but the presence of cameras meant that over 300 million people could see the special day unfold from the comfort of their homes.
Because Margaret's father had passed away years earlier, her brother-in-law Prince Philip, Duke of Edinburgh, walked her down the aisle instead. She was also accompanied by eight adorable little bridesmaids, including her niece Princess Anne. But as fun as it is to ooh and ahh over miniature princesses in ruffled gowns and flower crowns, the dress that everyone was most eager to see was, of course, the one on the bride.
The gown was designed by Norman Hartnell, a royal couturier who had also provided Margaret's sister Elizabeth with her wedding dress more than a decade prior. Margaret's dress was made of over 32 yards of silk organza, and the fabric was the real star of the show because there was so little in the way of decoration on it. The full skirt was topped by a modest bodice with long sleeves and a row of buttons. According to Town and Country, at the time Life magazine allegedly called it "the simplest royal wedding gown in history."
But it only seemed simple as long as you didn't look at the tiara, and who could keep their eyes off the tiara for long? It was known as the Poltimore tiara because it was made for Florence Bampfylde, Lady Poltimore, a century earlier in the 1870s. It was constructed by the House of Garrard and no one could deny they did an impressive job.
However, the tiara was even more impressive than it seemed at first glance: if one ever got bored of parading it around atop their heads, they could break it down into a necklace and eleven brooches. Twelve statement pieces for the price of one!
Margaret was even snapped by her new photographer husband sporting the Poltimore in the bathtub, earning the envy of aspiring princesses everywhere. A crown really levels up your run of the mill Lush bath bomb experience into a royal extravaganza, so I would recommend taking a tip from Margaret and trying it out. The Poltimore was later auctioned off and sold for 10 million pounds in 2006.
Margaret wore the tiara with a veil that was possibly long enough to cover the entire route of the wedding procession, and carried orchids and lily-of-the-valley in her bouquet. Though the term "royal wedding" might immediately conjure visions of Marie Antoinette in a golden carriage with a ship on her head (or something similarly ostentatious), Princess Margaret proved there was a middle ground between luxury and simplicity.
Check out Romper's new video series, Romper's Doula Diaries:
Watch full episodes of Romper's Doula Diaries on Facebook Watch.