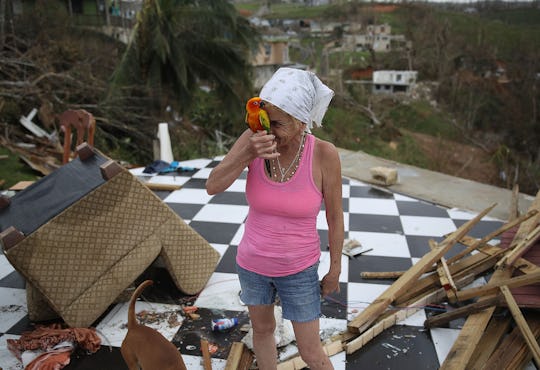 Joe Raedle/Getty Images News/Getty Images
Photos Of Puerto Rico After Hurricane Maria Show The Humanitarian Crisis That's Still Unfolding
Puerto Rico is truly struggling in the wake of Hurricane Maria. And if you listen to President Donald Trump — or rather, read his tweets — his administration is "Doing everything we can to help great people of PR!" But just by looking at photos of Puerto Rico after Hurricane Maria, and listening to officials on the ground there, it becomes clear that not enough is being done. The people of Puerto Rico desperately need aid right now — not blame for the situation, or insults to its local leaders from the president as he watches from afar.
Over an 11-hour period beginning in the morning and ending a little before 7 p.m. on Saturday evening, Trump posted 18 tweets about the situation in Puerto Rico after Hurricane Maria's onslaught, according to CNN. But instead of inspiring hope, asking for patience, or promising immediate assistance in any possible capacity, Trump's tweets were negative, accusatory, and downright disrespectful to the people dealing with the devastation there.
One series of tweets Trump posted set off an especially vocal backlash. On Friday, the mayor of San Juan, Carmen Yulín Cruz, pleaded for more federal assistance to deal with the destruction on the island. And Trump responded with angry tweets aimed directly at Cruz and "others in Puerto Rico."
In one tweet, Trump claimed that 10,000 Federal workers on the island were "doing a fantastic job." But Puerto Rico is a United States territory of 3.4 million people, according to The Pioneer Press. And many feel that the level of devastation there is no match for the assistance Trump claims to have provided.
Indeed, recent pictures of Puerto Rico after Hurricane Maria show just how bad the situation is there. These photos should make it clear that this is no time for Twitter attacks or petty grudges by someone who is supposed to lead the people who are suffering on the island.
One vocal organizer and supporter of aid efforts in Puerto Rico is Lin-Manuel Miranda, who is known for creating and starring in the Broadway musical Hamilton, and for co-writing the songs for Disney's Moana. Miranda, who is mostly of Puerto Rican descent and who still has family there, shot back at Trump's Twitter comments with a few comments of his own.
And can you blame him? The pictures coming out of Puerto Rico in the wake of Hurricane Maria are nothing short of heartbreaking. Is it any wonder that someone with family there didn't take the president disparaging the people there very kindly?
FEMA's federal coordinating officer, Alejandro De La Campa, said on Saturday that just 5 percent of electricity had been restored to the island, according to NBC News. Around 50 percent of running water services were also restored as of Saturday morning, De La Campa told the news outlet, citing information from the governor's office.
But Hurricane Maria struck Puerto Rico on Sept. 20. Shouldn't those numbers be better? Shouldn't everything and anything that's possible be done to make those numbers back to normal, ASAP?
The situation in Puerto Rico is still dire. The official number of deaths as a result of the hurricane stands at 16, according to The Miami Herald. But storm-related deaths are rising with each day, and those numbers "are not counting patients who are not receiving dialysis, oxygen and other essential services," according to that publication. That means those numbers are almost certain to continue to go up.
So no, this is maybe not the time to bring up Puerto Rico's debt load. This is not the time to attack local leaders on the island, who are hard at work in the thick of the devastation, while Trump is hard at work doing things like tweeting from his golf resort in New Jersey.
What it is time for, is for the administration to do literally everything in its power to help the people of Puerto Rico. They desperately need aid now, and the island will need a lot of help to rebuild in the days, months, and years after the hurricane, as these photos easily prove.
If you want to do something to help Puerto Rico and its people, consider donating to any number of reputable organizations working around the clock to bring aid to the island. Hispanic Federation, for example, is one great option — you can learn more and find out how to donate here.
The photos out of Puerto Rico after Hurricane Maria are tough to look at, but they need to be seen. And the people of Puerto Rico need to feel seen and be heard now, because this is when they need the nation's attention most.
Watch Romper's new video series, Romper's Doula Diaries:
Check out the entire Romper's Doula Diaries series and other videos on Facebook and the Bustle app across Apple TV, Roku, and Amazon Fire TV.