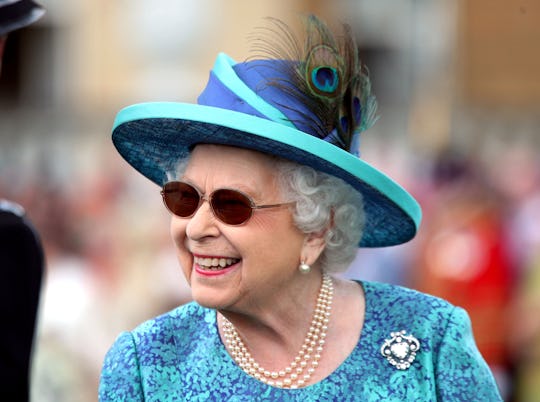 WPA Pool/Getty Images Entertainment/Getty Images
Photos Of Queen Elizabeth II As A Kid Prove That Princess Charlotte Is Her Mini-Me
It's hard for me to think of Queen Elizabeth II as anything but the British monarch. That's probably because she's been serving in this position since she was 25 — and she's currently 92 years old. Sixty-seven years is kind of a long time to have such an important title. In fact, on September 9, 2015, Queen Elizabeth II officially became the longest-reigning monarch of the UK — overtaking her great-great-grandmother Queen Victoria's record. Maybe that's why photos of Queen Elizabeth during her much-younger years are so strange to see. As mind-boggling as a pre-queen Elizabeth is, one thing's for sure: Photos of Queen Elizabeth II as a kid prove that Princess Charlotte is her mini-me.
Princess Charlotte — who is fourth in line to the throne, CBS News reported — is the second child of Prince William and Kate Middleton. Although the little princess only turned 3 on May 2, it's already apparent that she resembles Queen Elizabeth. (Or Gan-Gan, as the royal children lovingly call her.) Not only does Charlotte closely resemble her great-grandmother today — but if you compare photos of young Queen Elizabeth to current photos of Charlotte, the resemblance is even more apparent. To be fair, Queen Elizabeth and Princess Charlotte do have a few physical differences — the queen's blond hair as a child versus Charlotte's light brown hair, for example — there are a number of striking similarities.
On December 18, 2017, Kensington Palace released an official portrait of the Duke and Duchess of Cambridge and their two children at the time, Town & Country magazine reported. "The Duke and Duchess of Cambridge are pleased to share a new photograph of their family," the Kensington Palace Twitter account captioned the family shot. "The image features on Their Royal Highnesses' Christmas card this year. The photograph was taken earlier this year by @ChrisJack_Getty at Kensington Palace."
Here's a photo of young Elizabeth, in comparison. If you don't focus too much on their hair, the resemblance is strong. I can definitely see they have similar eyes and a similar mouth area. Too cool, right? Genetics are fascinating.
Plenty of other people have taken notice, too. Even then, Twitter was abuzz with comments about the princess' familial resemblance to Queen Elizabeth. "Princess Charlotte looks SO much like Queen Elizabeth," one Twitter user declared. The comment was liked no less than 675 times, for the record.
And about a year ago, Kensington Palace marked Princess Charlotte's birthday with an official portrait taken by her mother, Kate Middleton, ABC News reported. "The Duke and Duchess are delighted to share a new photograph of Princess Charlotte to mark her second birthday tomorrow," the tweet was captioned.
To drive the point home, here's another shot of Queen Elizabeth at age 3.
Plenty of comments on this May 2017 post brought up Queen Elizabeth, too. "It's a beautiful photograph," one Twitter user wrote. "She looks like her Great Grandmother, HM The Queen."
Another person commented, "She looks so much like Elizabeth!"
Yet another Twitter user chimed in with, "Happy Birthday sweet one! You look like the Queen little beauty."
If you take a look at this photo slideshow from The Telegraph, below, you'll see yearly photos of Queen Elizabeth from birth to age 90. And honestly, it could probably be used as a predicator for what Princess Charlotte will look like in years to come.
Even as an infant, Queen Elizabeth shared many physical similarities with Princess Charlotte. Here's a shot of baby Elizabeth with her grandmother, Queen Mary.
And here's photo of baby Charlotte sporting an adorable pink cardigan.
If you still can't get past the hair color/texture differences, here's another of Princess Charlotte (alongside her big brother, Prince George) all bundled up for the cold weather. Yep. Those were definitely her great-grandma's baby cheeks going on there.
Although it's hard to imagine Queen Elizabeth II as anything but the white-haired queen that we know today, she was once a little kid just like the rest of us. And she looked a heck of a lot like her great-granddaughter, Princess Charlotte.