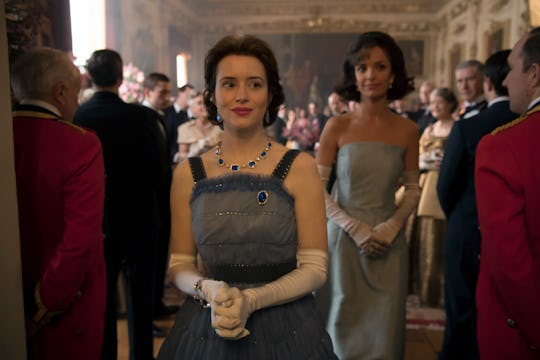 Alex Bailey/Netflix
These Photos Of Queen Elizabeth & Jackie Kennedy Hint At Their Real Relationship
Netflix's The Crown depicts the life and reign of Queen Elizabeth II, drawing most of its plot from real events, such as the famous meeting of the royal family and the American version of royalty — the Kennedys. Photos of Queen Elizabeth and Jackie Kennedy show that the two female leaders did meet in real life, and they had a real relationship. As to the closeness of that relationship and whether any of the tension shown between the two of them is also true, well that's a question only the Queen can answer now. And I very much doubt she'd be willing to open up about it, to me at least.
In the show, the Queen is apprehensive about the President of the United States and First Lady's upcoming visit to London. She's heard that Jackie Kennedy made quite a splash in Paris, and worries that she cannot compete. When the visit does happen, the two women appear to bond. At least they do until Elizabeth later hears that Jackie has been trash-talking her all around town. Jackie later makes another visit to Buckingham Palace and apologizes for her comments, offering her husband's infidelity and doctor-sanctioned drug use by way of explanation. It's clear that Elizabeth has softened to her would-be rival when John F. Kennedy is assassinated and she orders the bells to be rung in his honor, contrary to tradition.
There is photographic evidence that at least some of this is true, though the internal feelings of the women involved necessarily remain private. As far as the outfits are concerned during this tense first meeting, The Crown stayed true to history. This is particularly true of Elizabeth's outfit, which stayed accurate down to her jewelry, including the small broach and jeweled bracelet. They took a few liberties with Jackie's look, altering the shape and style of her dress and giving her bigger hair. The effect is the same, though — juxtaposing an impossibly stylish Jackie with the more modest British queen.
Though it was not made a part of the show, the Kennedys also presented Queen Elizabeth with a modest gift — a signed photograph of the president in a Tiffany frame. Because this was just a banquet and not an official state dinner, this gift was perfectly appropriate in nature. A more elaborate gift would have been presented had the occasional been more formal.
As in the show, in real life when John F. Kennedy was assassinated, it sent shockwaves of grief all across the world, including in the United Kingdom. Elizabeth is shown in The Crown affording Kennedy unprecedented honors following his death. In real life the British government took it a step further and established a memorial for the fallen leader. They created the Kennedy Memorial Trust which includes a physical memorial in Runnymede, England, as well as a scholarship for British post-graduate students studying at MIT or Harvard University. Photographs show Jackie Kennedy with her children, Queen Elizabeth, and Prince Philip at the unveiling of the memorial.
I'm no fashion expert, but I have to admit that I am a huge fan of the Kennedy family's cream-colored uniformity here as well as Queen Elizabeth's flowery helmet-hat. It could hardly have been otherwise considering how many people were watching them, but the former First Lady and Queen of England definitely appear to be on completely cordial terms with one another at this occasion.
It is unlikely that they stayed in touch as there would have been some sort of record of their friendship. But I like to believe that their relationship was the one of mutual respect and understanding as depicted in the show.
Check out Romper's new video series, Romper's Doula Diaries:
Watch full episodes of Romper's Doula Diaries on Facebook Watch.