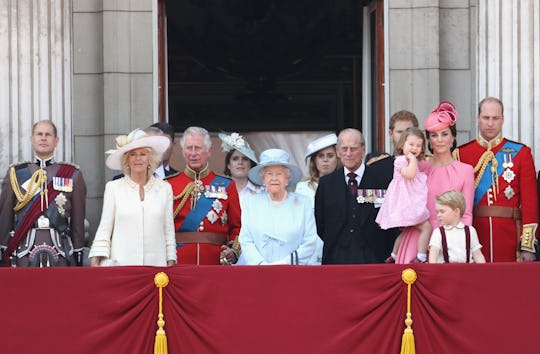 Chris Jackson/Getty Images Entertainment/Getty Images
Photos Of Queen Elizabeth With All Her Grandkids Show The Family Is Actually Huge
When most Americans think of the British royal family, the Queen quickly springs to mind, along with her heir, Prince Charles, and his sons, Princes William and Harry, as well as William's wife, Catherine (aka Kate Middleton). But these photos of Queen Elizabeth with all her grandkids show that the royal family is much bigger than that; we just don't hear about the other members as often. A fair amount of people across the pond can probably name William's children, Prince George and Princess Charlotte, but did you know that the queen has nine more grandchildren and great-grandchildren?
The media tends to focus on the royals who actually have a shot at the throne, so Americans are forgiven for not recognizing the eight-in-line on sight. And while we're over here oohing and ahhing at George's fancy little short pants, his second cousins are romping around in jeans, which, although just as cute, are not as noteworthy, and less likely to get photographed.
So we all know these three, even if we don't know their official names. William and Harry are Charles' sons with the late Diana, Princess of Wales. And the one we call "Princess Kate" is actually called Catherine, Duchess of Cambridge, or Princess William of Wales, although she doesn't normally go by the second one (who would?).
And there's little George chatting with his great-gran at his little sister, Charlotte's christening. Other than the pram, they look just like any other family.
Right, maybe not so much here.
This extremely fancy generational portrait was made into postage stamps, which explains why it's probably a bit more stuffy than the ones you and I might have posed for with our parents, grandparents, and babies. Now, on to the lesser-knowns.
Did you know that the Queen has three other kids besides Charles? Here she is with Peter Phillips, Princess Anne's son, who definitely doesn't need a DNA test to prove he's a royal.
Peter's daughters, Savannah and Isla Phillips, can usually be spotted in larger family photos to the right of George and Charlotte, but they're often cropped out in favor of their more famous cousins.
Anne's daughter, Zara Tindall, is rarely spotted with her grandparents, but here they are having a lively discussion at a fancy horse party last June. See? They've met, I swear!
Zara's daughter, Mia Tindall, stole the show in this portrait, taken in honor of Elizabeth's 90th birthday. She's the one holding her great-grandma's purse, and we are all dying for not noticing right away, yes?
On the left side of this photo we see Beatrice and Eugenie, daughters of Prince Andrew, who are known for traveling by horse-drawn carriage and cosplaying as Cinderella's stepsisters.
And finally, there are Lady Louise Windsor and James, Viscount Severn. They're the queen's youngest grandchildren, the daughter and son of Prince Edward. Aren't they just precious? What, you can't see them? Let's zoom in just a tad...
There they are, looking very confused about the fact that everybody in America knows auntie Camilla's name, but we've never even heard of them. They're 10th and 11th in the line of succession! They could be in charge of Great Britain one day!
However, being off the radar must have its privileges. Think about it this way: Louise and William are both Elizabeth's grandkids, but while William has to wear fancy military gear and have an entourage of photographers following him everywhere, Louise is free to be a semi-normal kid. And they still get the same amount of love and spoiling from their grandmother. She just has to do a lot less work for it. Lucky girl.
Check out Romper's new video series, Romper's Doula Diaries:
Watch full episodes of Romper's Doula Diaries on Facebook Watch.