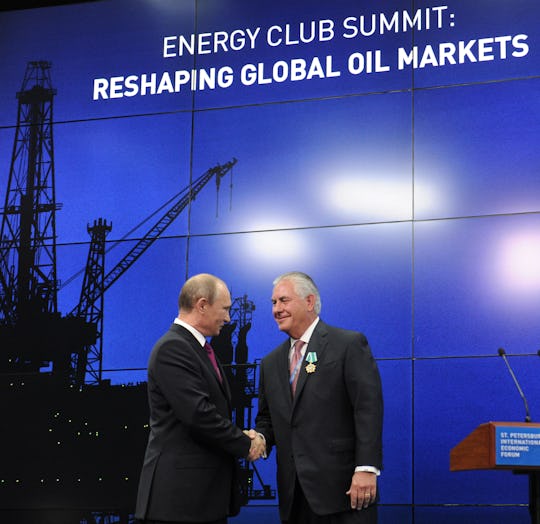 MICHAEL KLIMENTYEV/AFP/Getty Images
Photos Of Rex Tillerson & Vladimir Putin Show Just How Close Their Relationship Is
President-elect Trump's nominee for Secretary of State is as unorthodox as most everything else he's done as a politician. Not only is Tillerson the CEO of ExxonMobil, one of the most rich and powerful companies on earth, but he's also got zero experience in government. Now, some might argue that could be a refreshing approach to U.S. diplomacy. But there's also the matter of Tillerson's extraordinarily close relationship with Russian President Vladimir Putin. How close are they? Take a look at these photos of Rex Tillerson and Vladimir Putin. They show there's true affection and admiration between the two men.
The real question is whether that relationship would benefit or hurt the interests of the country should Tillerson be confirmed to lead the State Department.
The two bonded over what you might expect of an oil boss and Russian dictator — oil and lots and lots of money. The two met in 1999, according to Business Insider, when they struck a deal between Russian state-owned Rosneft and Exxon. Then two companies signed a $3.2 billion deal in 2011 that allowed Exxon to drill in the Russian Arctic. The deal was expanded in 2013, Business Insider added, but had to be canceled a year later because of U.S. sanctions imposed on Russia. Sanctions Tillerson himself said had caused "broad collateral damage," according to Business Insider.
Trump campaign manager Kellyanne Conway defended the Tillerson nomination by trying to downplay his relationship with Russia's leader. "It's not like Putin and Tillerson are pounding down the vodka at a local bar," she quipped, according to Salon.
But that's not exactly true. But, to be fair, this looks more like champagne in a fancy palace.
The close ties between Putin and Tillerson are even more alarming based on allegations that U.S. intelligence officials have revealed to NBC News they have a "high level of confidence" Putin personally directed hacks intended to influence the outcome of the American presidential election. Putin has denied the hacks and allegations that Russia tried to influence the U.S. election in Trump's favor.
Here's video of Putin personally pinning a medal called the Russian Order of Friendship on Tillerson's chest. According to the Washington Post, Tillerson was given the honor at the behest of Putin loyalist and Rosneft oil chief Igor Sechin:
One anonymous source who didn't want to be named because he still lives in Russia reportedly told Newsweek that Tillerson's relationship with Putin is, "probably closer than any other American," and that "There's no other private U.S. citizen ... that could get Putin on the phone."
In 2011, according to Newsweek, Tillerson spent time at Putin's villa in Sochi. In 2016 Tillerson attended the St. Petersburg International Economic Forum in defiance of U.S. sanctions against Russia, Newsweek reported.
Putin and Tillerson clearly have at least some kind of a relationship, which would normally not be so threatening. But because Tillerson is up for secretary of state, and his relationships with Putin appears to be pretty close, it's not something the American people can just brush off.