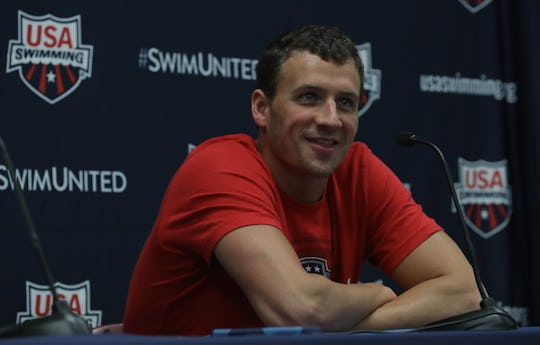 Ronald Martinez/Getty
Photos Of Ryan Lochte's Fiancee's Engagement Ring Show He & Kayla Ray Reid Got A Win
Another day, another engagement for Dancing With the Stars competitors. Olympic swimmer Ryan Lochte, who made international headlines last summer for claiming to have been robbed at gunpoint after drunkenly vandalizing a gas station in Rio de Janeiro, finally has something to celebrate this year. He just got engaged to his girlfriend Kayla Rae Reid, and the photos of Lochte's fiancee's engagement ring display a real stunner. Let me hear offer my heartfelt congratulations to the happy couple. I feel like Lochte needed a win after all this well-publicized buffoonery.
To be honest, it hasn't exactly been a banner year for the swimmer. There was the whole international incident, sparked by a lie about his drinking to his mom (what else) and the resulting 10-month suspension from the sport. Perhaps for a little image rehab, Lochte then became a competitor on this season of Dancing With the Stars with partner Cheryl Burke. Even this came with it's own hiccups, as the stage was stormed by Lochte protestors during his first evaluation. If anyone thought that all the madness would have made Lochte's model girlfriend, Reid pull away, they would be wrong. It seems that the struggles of the past year have only brought the two closer together.
"My family says, 'Don't you think it's a little too soon?' I'm like, 'Can you put a time on love? Can you?' " Lochte told USA Today. "When I realized this was 'the one' was when she stuck behind me through this.'' To be honest, if these two can weather this kind of scandal, chances are good they'll make it through anything.
Reid first hinted that the couple had met on Tinder in an article from The Daily Mail. She said, "He was on Tinder. I might be on Tinder. That's all I'm going to say about it." But the USA Today article reports that the couple actually met at Bootsy Bellows, a nightclub in LA, last January. After the chance meeting, Lochte reached out to his future wifey on Instagram.
Instagram is where the couple both posted their first pictures post-engagement, which includes a significantly-sized rock on Reid's ring finger. I can't report just yet on how many carats exactly this guy is, but you can be sure it's no slouch. The only question left for me to ask now is: who took the pictures?