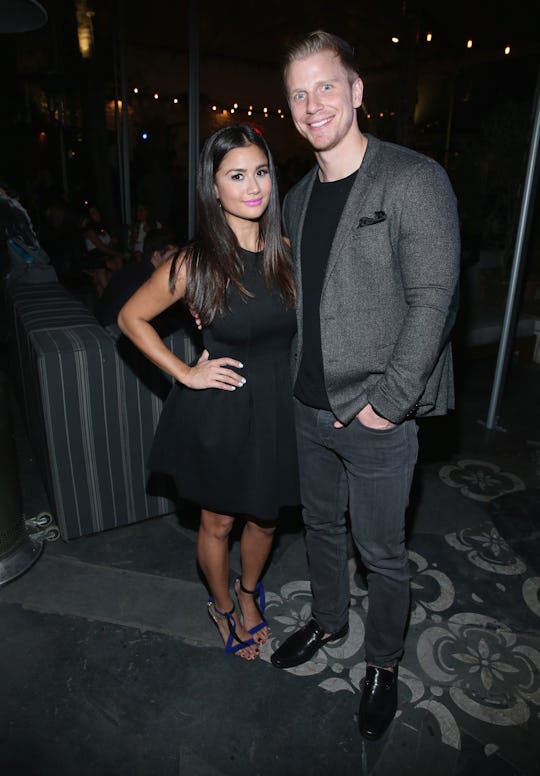 Jonathan Leibson/Getty Images Entertainment/Getty Images
Photos Of Sean Lowe & Catherine Giudici's Baby Are Here, & They're The Sweetest
They've spent the last nine months documenting their pregnancy on social media, and now the first photos of Sean Lowe and Catherine Giudici's baby are here. Only one day after the birth of their son, Samuel Thomas, the former Bachelor couple uploaded some heartwarming shots of themselves with their little boy to Instagram, according to TODAY. And from the looks of it, new parenthood has just been one big love fest for them so far. Each of the reality stars posted a photo of themselves with Samuel taken in their hospital room. New dad Lowe can be seen cuddling his new bundle of joy with a huge smile on his face, while mom Giudici is shown cradling her son sitting up in her hospital bed (looking pretty amazing for someone who recently gave birth, may I add!).
Although some celeb parents are reluctant to share photos of their babies right away, Lowe and Giudici are big into social media sharing, and regularly post photos and tweets about their life together to keep their followers in the loop. Throughout her pregnancy, Giudici has shared plenty of bump progress shots and photos showing the couple trying to prepare for their new arrival. Now that she's given birth, it's not a huge stretch to imagine that little Samuel will be taking over as the main source of Insta-inspiration for both of his parents' accounts.
In addition to sharing his photo on Instagram, both Lowe and Giudici also announced Samuel's birth on Twitter, according to E! News. After giving birth Saturday, Giudici sent out a tweet that evening that said, "I'm in love with another boy, my son Samuel Thomas Lowe." Lowe also shared the happy news with his followers, tweeting, "God is good! We had a healthy baby boy named Samuel Thomas. Thank you everyone for your prayers and support!"
Since then, the new parents have kept up their Twitter routines, posting some hilarious quips about what their first days of parenthood have been like. For Giudici, that's meant mostly updates about how freaking sleep deprived she currently is (to which all new parents everywhere say amen), and while that obviously isn't so great for her, it's made for some pretty entertaining Twitter fodder.
From the sounds of it, Giudici has also discovered the other reality of new motherhood: the seemingly endless feeding and pooping cycle:
Lowe's also embraced the funny side of fatherhood, taking a jab at Crocs-wearing papas everywhere (next up: dad bod).
Although he also posted perhaps the sweetest tweet ever when his wife went into labor, announcing that their little one would be arriving shortly, and that, "mama has never looked more beautiful."
But all things considered, Giudici totally won for best "I'm in labor" tweet:
Even though The Bachelor doesn't exactly have the best track record of couples lasting very far beyond the initial engagement, Giudici and Lowe definitely seem to be the exception. Not only do they seem very happily married, they're now new parents, both head-over-heels in love with their newborn son. And thanks to their prolific social media sharing, the rest of the world gets to follow along with this too-cute couple as they adjust to life as a new family of three. A total Bachelor happily ever after (though they still have a long way to go before they can match the original Bachelor love story for the ages, Trista and Ryan).
The couple's devoted followers are surely already looking forward to seeing more of little Samuel's sweet face, but based on the couple's social media history, they probably won't have to wait much longer to get another glimpse of this sweet family.