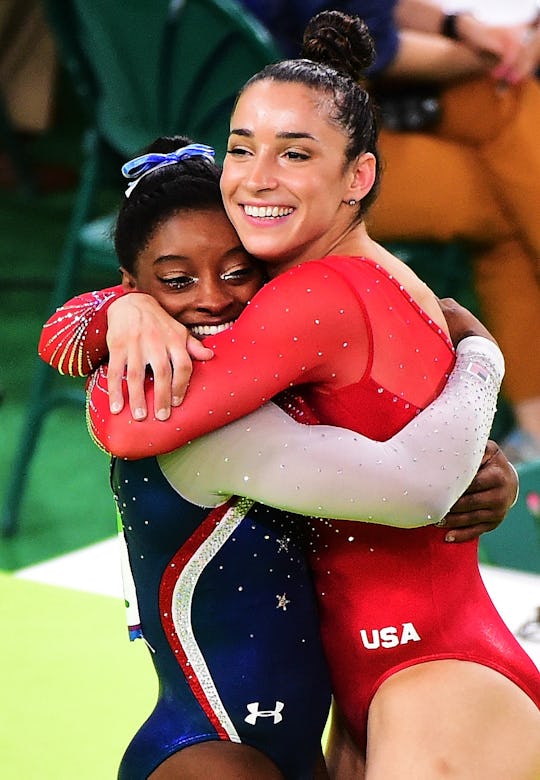 Harry How/Getty Images Sport/Getty Images
Photos Of Simone Biles & Aly Raisman At The All-Around Competition That'll Give You Feels
Since the 2016 Rio Olympics kicked off last week, Team USA's women's gymnastics team has competed fearlessly, snagging medals and smashing records along the way. Now, two of the team's all-stars, Simone Biles and Aly Raisman, have become even more decorated after placing first and second, respectively, at the individual all-around competition. Making this historic moment even more special, according to NBC Olympics, their victories on Thursday mark the second time in history that two U.S. gymnasts have finished 1-2 in an Olympics all-around, after Nastia Liukin and Shawn Johnson at the 2008 Beijing Olympics — and if that's not enough to move you, these photos of their close friendship will give you all the feels.
The ladies of the "The Final Five," as they and fans have nicknamed the team, have dominated the mats at the Olympic arena. On Thursday night, they continued to lead the competition at the women's gymnastics finals. Biles grabbed the gold, ending the night with a hefty 2.1 points over the silver medalist — Raisman. There was a brief moment, however, when both gymnasts sat in a nerve-racking second place behind Russia's Aliya Mustafina.
But, it was clear that Biles and Raisman had been in it to win it since the beginning. They both nailed their routines and made a permanent mark in the sport's history.
After Thursday's epic win, these photos of the American gymnasts prove that their friendship can emerge from any stumbles or intense competitions they might encounter, possibly even stronger than before.
These powerful photos of Biles and Raisman at the all-around competition show just that:
One adorable anecdote about their friendship: Biles and Raisman are only three years apart in age, according to NBC Olympics, but both of them agree they have completely different temperaments. In the video, Biles calls the 22-year-old silver medalist a "sleeping grandma" and Raisman thinks the 19-year-old gold medalist is "the crazy one," which might be explained by the seven sugars Biles likes to add to her tea.
People have been in awe ever since the news quickly went viral on social media that the American gymnasts dominated once again, leading many to include the hashtag #friendshipgoals. Even Democratic presidential candidate Hillary Clinton took a moment to congratulate the ladies on their historic victories. All of that said with all of the photos that captured this moment, it's clear that Biles and Raisman have left the United States feeling very proud and perhaps bit emotional.