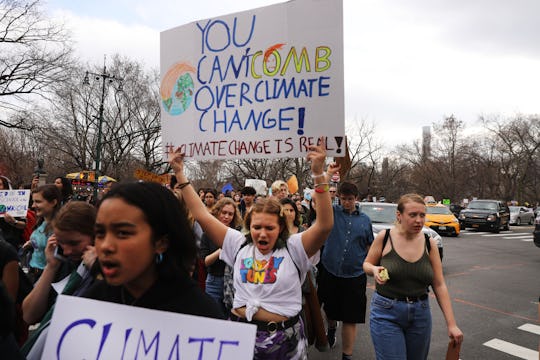 Spencer Platt/Getty Images News/Getty Images
These Photos Of Students Protesting Climate Inaction Are Powerful
The next generation has so much power to change the world. Through protests and activism, they have shown the rest of the world that their thoughts matter. On Friday, thousands of students participated in a protest to let their voices be heard. And these photos of students protesting climate inaction all over the world are proof that they're going to change the world.
Students all over the world walked out of their classrooms on Friday afternoon, not because they were excited for the weekend, but because they had something to say about climate inaction. These students were hoping to spark a dialogue from their representatives about climate change — demanding action and change from the current inaction, according to CNN.
After the protests first started by teenagers abroad in Europe and the United Kingdom, the idea quickly spread to the United States, according to Vox. Teenagers in the United States started the Youth Climate Strike, allowing people to organize their own strikes in their own cities.
The message behind the Youth Climate Strike is simple — the climate is in a crisis and politicians need to do something about it.
"We are striking because if the social order is disrupted by our refusal to attend school, then the system is forced to face climate crisis and enact change," the organizers wrote in their mission statement. "With our futures at stake, we call for radical legislative action to combat climate change and its countless detrimental effects on the American people."
You can feel the passion from these students to make a difference, and you can see it in their faces when looking at photos from the protests all over the world.