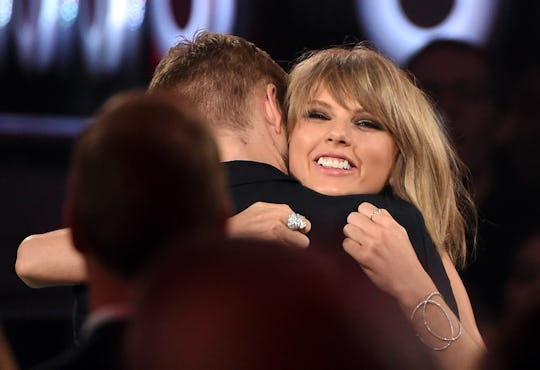 Ethan Miller/Getty Images Entertainment/Getty Images
Photos Of Taylor Swift & Calvin Harris Show Exactly Why Fans Are Upset About The Break Up
It's been a sad day for Tayvin fans after People reported on Wednesday that Taylor Swift and Calvin Harris broke up after 15 months together. The couple often documented their relationship on social media and these photos of Taylor Swift and Calvin Harris show exactly why fans are upset about the split. People quoted a source as saying the break-up didn't stem from any "drama" but because "things just don't work out sometimes."
Just a few months ago, the adorable pair celebrated their one year anniversary with a tropical getaway. They weren't shy to share the love with fans — The due posted plenty of beachside, bikini-clad photos with perfect romantic captions on both of their Instagram accounts.
Fans thought Swift's relationship with Harris was different for her past heartbreaks, some calling it the "real deal." Swift even said she was "in a magical relationship right now," in the May issue of Vogue.
The pair managed to keep their relationship predominately private even though they've publicly showed their support for each other and posted photos on social media that make you feel like you've stepped into a chapter of modern day version of The Notebook. Now, let's all take a look back why this relationship was so magical.
When they went on a romantic tropical getaway to celebrate their one-year anniversary
"One year down!" Swift captioned the photo of the gold locket Harris gifted her, engraved with "3.6.2015" which marks when they started officially dating.
When they celebrated the Fourth of July
When they built a snowman with Swift's brother
When they went sightseeing on a boat in London
When they supported each other at award shows
After Swift won album of the year for 1989 at the Grammys this year, Harris captioned the photo: "Congratulations to my beautiful girlfriend."
The split that has the world heartbroken comes shortly after a car accident on May 20 in London that left Harris injured. A source told E! News that the music producer is "feeling better" since the accident.
E! News also reports that the breakup happened last week, with a source saying it was Harris' decision to end things.
Swift and Harris have yet to confirm or deny reports of the breakup just yet. So, even though there's slight chance that this has all been a Hollywood prankster pulling a pretty big and fast one on the media and toying with the hearts of millions, there's also the possibility that Tayvin might have actually come to an end. But, until it's confirmed it doesn't hurt to keep our fingers crossed that the couple will be back posting even more adorable photos of that magical relationship.