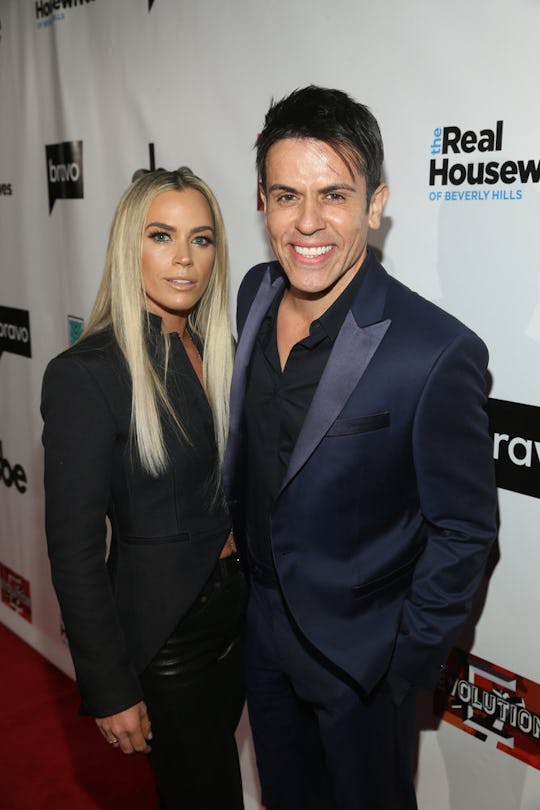 Jesse Grant/Bravo
Photos Of Teddi & Her Husband Prove This 'RHOBH' Couple Is #RelationshipGoals
In the world of The Real Housewives, the women of Beverly Hills stand out because they are the one franchise where all of the women are married. Unlike, for example, New York City, where none of the women are. And most of them seem to have truly enviable relationships with their husbands — including the newbie 'Wife Teddi Jo Mellencamp. Photos of Teddi and her husband prove that this couple is definitely #RelationshipGoals. I mean, when you guys have a shared Instagram account, that's basically the height of commitment in the 21st century.
As the newest woman to join the group, Teddi is still somewhat of an unknown identity (even though her dad is rock icon John Mellencamp). That means I have been studiously hunting her social media for insights into her personality and interests. Basically, I've found that her social media presence backs up everything she's been shown to be on the show. Her social media has also convinced me that she has a great relationship with her husband and kids. So for your benefit, dear reader, I have compiled a list of six reasons Teddi and her husband Edwin Arroyave represent everything I've ever wanted from a relationship.
They're Supportive
This picture posted on the couple's shared Instagram was clearly posted by Edwin, judging by the sweet and heartfelt caption. It reads, "Happy bday to my beautiful wife! Could not have asked for a better wife and mother to my kids. Thanks for always taking care of me. I could not do the things I do if I didn't have you by side. Proud of what you are about to accomplish. Love your discipline and the fight in you to go after your dreams. Love you!" Everyone deserves a spouse who supports their dreams and appreciates their hard work. Brownie points to Edwin for this.
They Love Each Other Flaws & All
True love is letting your partner snore even though you can't get any sleep because you want them to be well-rested. This is 100 percent true just like this post is 100 percent adorable.
They Share Lots Of Laughs
One thing that I've found that I absolutely love about this couple is that they don't take themselves too seriously. Sure they're ridiculously good-looking with ridiculously good-looking kids, but they're Instagram is filled with silly pictures or inside jokes.
They Travel Together
This is one couple that definitely gets around. They posted a lot of fun photos from this trip to China they took as a couple. But it's hardly the first time they've traveled the world together. They even got married in Paris, France. Which is just, way too romantic.
They Partake In Fun Activities
Clearly Teddi and Edwin aren't afraid to let their hair down and just have a good time with each other. When they're not hanging out with their kids, lots of their social media posts show the two of them having a great time at some activity, whether that's a Dodgers game or one of Kyle Richards' incredible themed parties. By the way, I cannot wait to see whatever event this was on the show!
They've Always Been Snugglers
The couple posted this picture with the caption, "Thank you Facebook for this reminder. I am slightly confused why we are both showing so much 'cleavage' along with many other questionable decisions we made during this photo." I mean who doesn't want this kind of beautiful relationship?
I am now officially looking forward to seeing more of Edwin on RHOBH.
Check out Romper's new video series, Romper's Doula Diaries:
Watch full episodes of Romper's Doula Diaries on Facebook Watch.